Kennett Square is known for many things: Mushrooms, a fun downtown, Longwood Gardens and great places to eat. One thing Kennett Square does well is FESTIVALS. From The Mushroom Festival to The Kennett Brewfest, there are so many fun events to look forward to. I love that KSQ pulls out all the stops and makes itself a hot spot to worth traveling to!
This Saturday is the annual Brewfest, a large gathering of craft brewers with samples of their wares. Hubby goes EVERY. YEAR. Unfortunately, if you don't have a ticket, you will not be able to attend. This event sells out FAST, and tickets are limited (but oh, so worth it).
LUCKILY, I have good news: there is a fun event the day prior to the Brewfest absolutely worth making the drive for. In keeping with the theme of brewing, Kennett Square hosts the Fermentation Festival.
Fermentation, if you aren't aware, is a key part of the brewing process. But it goes far beyond beer! Fermented foods and beverages (such as beer, wine, yogurt, olives, breads, cheese, saurkraut, kefir, and kombucha, to name a few) helps improve digestion, restores proper bacteria to the gut, and improves the ability to absorb nutrients. For the food, fermentation increases flavor and preserves food longer.
So, it's awesome.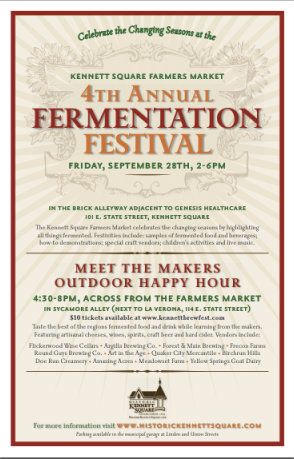 The Fermentation Festival
will happen in conjunction with the
Farmer's Market
from 2pm-6pm on Friday, September 28th in the Genesis Alleyway (101 East State Street). There will be samples of food, how-to demonstrations, live music, children's activities, and more. SO fun!
Our region is rich in great fermented food. Have you ever wondered who produces it? Well you can if you attend the
Meet the Makers Happy Hour
from 4:30pm - 8pm in Sycamore Alley (next to La Verona, 114 East State Street). Tickets are $10. The Happy Hour will feature artisanal cheeses, wine, spirits, craft beer and hard cider.
Make a night of it!
For more information, go to: