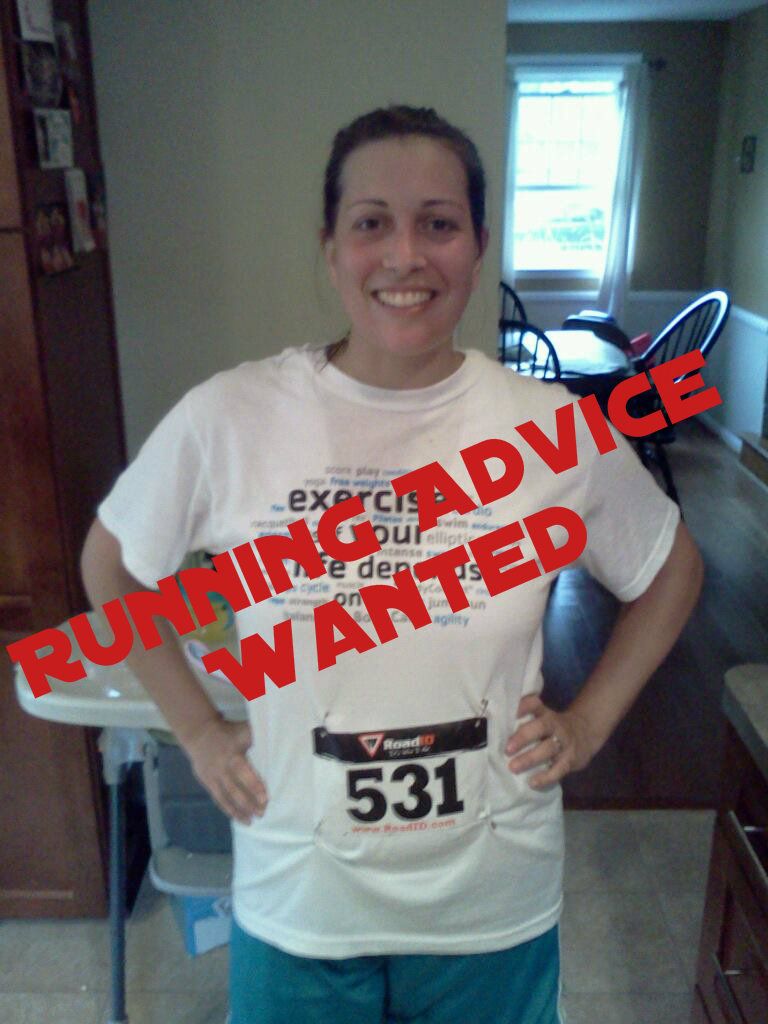 I've made it quite plain on this blog that as a child I had no athletic inclinations whatsoever.
Like.
None.
I tried running, despite what my years of wheezing and leg cramps from previous attempts told me (which was, "Don't. Please. For the love of all things sacred and holy. Don't put us through that.") I'd had many false starts at an exercise regime, making only a few feet of headway before petering out. From an early age, I had asthmatic reactions to physical activity, which hindered me. But it was hard to watch my athletic friends literally run circles around me, finding success in ways I could not.
Starting in college, I felt more motivated to "get things moving." I pushed myself, despite the discomfort. I found that if I was committed and didn't push too hard too fast, I was able to gain a little more endurance each time I ran. Each run enabled me to run a bit further. Once I'd worked up my lungs, I didn't wheeze anymore. Soon I was able to run 1-2 miles without having a heart attack. I also went on to add weight training (nothing formal, just learning from books).
Having kids waylaid me a bit. I took a long time off during my first pregnancy and post-partum. It was hard to get started again, but toward the end of Chica's first year, I was running more steadily. I had started jogging regularly again when I found I was pregnant with Bug, and I was set back again for another 18 months.
Last summer, when Bug was about 7 months, I started working out again at my local YMCA. I decided to train for my first 5k, which I completed last September. Despite my plans to continue running, I stopped working out when our membership ended.
It was a bad idea.
We reactivated our membership, and I've been working on my running again. My goal is to be ready for the same 5k I did last year. This time, I've given myself more time to train. I slowly started jogging again about 7 weeks ago. It was difficult at first! But I committed to running 3 times a week, and each day got a little easier. I got a little faster. And I finally broke a 10 minute mile (actually, I've worked my way down to under 9 minutes)!
I still consider myself a new runner, and an untrained one at that. I have a few questions that have been bouncing around my head, and I'm sure other novice runners would benefit from some advice from seasoned runners. Here are a few to get started:
What is the best clothing for running?
I typically run in athletic shorts and a t-shirt. I know I need new shoes. Is it best to wear running shorts? A certain fabric? What are the best brands?
Shoes.
I know there are a lot of opinions about running shoes: brands, "barefoot" shoes versus traditional running shoes. I also know that everyone is different, therefore their running shoe needs are unique. What is your philosophy on how to take care of your feet? What brands/shoes do you recommend?
Best way to train?
If a person is starting from scratch, where does one begin? I started with the Couch 2 5k app last summer. This summer I just started running with the goal of 1.5 miles, and added distance every week. Is it best to start with distance? Time? What is more imporant: how far you run? Or your bodies ability to recover?
How to handle cramps, side stitches, shin splints and other running ailments?
I occasionally get side stitches/cramps, and I do my best to focus my breathing and run through them. Sometimes that is not enough. Is there good advice out there on how to handle physical ailments that crop up while you are running? Time tested remedies?
Hills.
I hate hills. Although my endurance is getting better, hills sometimes still kick my butt. How should a new runner get through an incline? Do you go slow? Do you power up and get through it? Should you change your breathing or stride?
How to take it farther.
So I've completed a 5k, and I hope to complete my second in the next 2 weeks. I don't know if I want to ever put myself through the torture of a marathon, but perhaps a 10k? How do I make running a regular part of my life? How do I continue to challenge my body so I don't hit plateaus?
So hit us with it. Leave a comment below. Give us your best running advice, whether you answer some of the questions above (please?) or throw out some good words of running encouragement in other areas.
I would love any and every bit of advice you have. I know there are other novice runners (or people who want to
start
running) who will find your advice invaluable.
If I get some good tips, I will write a follow-up!