I know. It's so bad that I haven't had a chance to post about my Kennett YMCA experience for the past 3 weeks. Here are my excuses: I was training for the 5k on September 11. The next week I was recovering from the 5k I ran on September 11. And then this week I am writing late because I caught some kind of flu that had me all but bedridden.
But excuses are for wimps. So no more.
I had a great time running in my first 5k! Here are some pics (notice my blatant show of YMCA love with the tee-shirt:
Brandywine YMCA love!
My friend, Jen, who ran with me.
Victory!
After the race, I was a bit detained with a strained tendon. Or ligament. It's whatever runs from my knee past my ankle. But either way it hurt, and I rested it for the following week. Looking forward to running again! I found out that our local park, Anson B. Nixon, is hosting a Monster Mash Dash 5k benefitting the Kennett Education Foundation. If it means running in a costume, I'm totally in!
And the training begins once again!
The Y:
Parking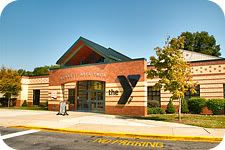 I know. It's kind of weird to discuss "parking" as an enticing perk of my local gym.
But let me ask you this: if you could not find parking to go work out, would you continue with your gym plan?
I used to live in a different borough and attended a different YMCA (which I loved as well). But since the YMCA, at the time, was smack dab in the middle of a borough, I sometimes had to troll for parking for 10 minutes, 20 minutes. And it usually involved a slick parallel parking maneuver if I didn't want to pay for the garage.
So, I really appreciate that the Kennett YMCA has an easy to facilitate parking lot with ample parking that is all close to the the lobby. No walking 3 blocks. No parallel parking. No having to pay meters or a garage.
Honestly, sometimes it's the little things we overlook. But those little things make all the difference!
(I make no apologies for my random and awesome taste in music)
1. Ramblin' Man - Allman Brothers
3. Pump Up the Jam - Jock Jams
4. Sweetness - Jimmy Eat World
6. Sweet Home Alabama - Lynyrd Skynyrd
7. Float On - Modest Mouse
9. Me and Julio Down By the School Yard - Paul Simon
10. Cut That Mullet - Wesley Willis
Healthy/Healthifed Recipe
Having a versatile staple on hand is a great way to make consistently healthy choices. We love roasted veggies in our house. They are easy to throw on a tortilla with some goat cheese for a sandwich, a quiche, as a pizza topping or even in with your scrambled eggs. They also make a great
gourmet hot pocket
. Here is the recipe on how to make great roasted veggies every time. It's the perfect time of year to start picking up hearty root veggies to roast from your local farmers market!
Roasted Vegetables
Whatever vegetables you enjoy. Some great vegetables for roasting are:
Sweet Potatoes
White Potatoes
Onions
Broccoli
Asparagus
Zucchini (Green Squash)
Butternut Squash
Yellow Squash
Red Peppers
Green Peppers
Cauliflower
Tomatoes
I've been using the following combination with great results. 1 each of:
Zucchini
Red Pepper
Green Pepper
Sweet Potato
Onion (sometimes 2 if they are on the smaller side)
Small head of Broccoli
pound/bunch of Asparagus
Preheat Oven to 450º
Wash and cut up all of the vegetables (peeling the potato is about the only necessary prep work apart from cutting. I seed and discard the center of the peppers). If you like larger chunks, cut them larger. I cut up the veggies into dime-sized bits. Place in a large mixing bowl.
Pour in 1-2 TBS of Olive Oil. Toss the vegetables, being sure that all of the veggies are coated with the oil. If the Olive Oil is not coating well, add another TBS.
Spray a baking sheet (the kind with sides, not the flat cookie sheets) with cooking spray (I use the Olive Oil kind). Spread the veggies onto the sheet (I find that with the combination listed above, I need to split it between 2 sheets), being careful that all of the vegetables are touching the sheet (and not piled on top of each other - this will hurt the roasting process). Sprinkle with salt, pepper and oregano (about 1/2 tsp of each, but if you are adventurous, add more. And if you like different spices, experiment!)
Place in oven, and bake/roast for 25-30 minutes. Stir once or twice during the baking. Take out when the veggies are sizzling and browned.
Going into the 5k, I was doing really well. I thought that I was getting off course while I was recovering and then catching the flu. I'm happy to report I've maintained the 145lbs! My goal is to run in one 5k a month, to keep me motivated to stay active.
My 3-month membership, courtesy of the Kennett Area YMCA, is coming to a close this weekend. I will post for the last time next week. So be sure to check in!
How are you doing in your Journey to Healthified? What did your week look like? I'd love to hear about it - leave a comment to share your story!