When you see the picture above, some title comes to mind:
Tomato Sauce
Pasta Sauce
Marinara
Red Sauce
Gravy
Whatever you call it, there are 2 ways to come by it. You can either go to the store and grab a jar or can. Or you can take the (small amount of) time and create homemade sauce yourself!
Does this seem intimidating? It's not! Making sauce from scratch may seem daunting if you've never done it before, but it's actually quite simple. And the payoff of fresh sauce made by your own 2 hands is priceless.

After I posted a picture of my fresh-picked whole peeled tomatoes that I bought from the West Chester Growers Market last weekend and blanched in preparation for the sauce, many of you asked for a recipe.
So for the first time ever, here it is!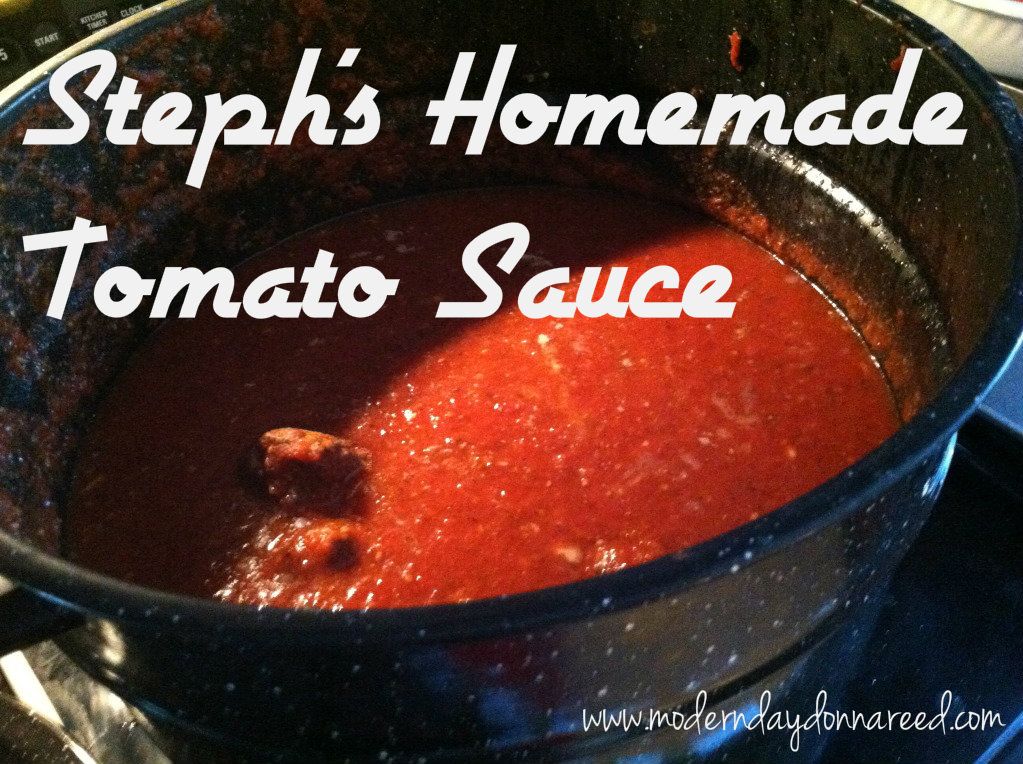 (Any ingredient that is starred has a further explanation in the Notes section after the recipe)
12-20 Whole Peeled Fresh-Picked Tomatoes* (or 6 LARGE cans of whole peeled tomatoes)

1 head of Garlic*, roasted and cloves squeezed out (or 3 TBS of minced garlic)

1 18oz can of Tomato Paste

1 large Onion, halved

1 TBS Olive Oil

1/2 cup of Water OR Red Wine

2 dried Bay Leaves

1 TBS Dried Rosemary (I grind mine into an almost-powder in my mortar and pestle)

1 TBS Dried Oregano

1 TBS Dried Basil

1 TBS Onion Powder

1 tsp Salt

1 tsp Pepper
Directions:
1) Heat oil in a large pot on the stovetop (preferably non-aluminum, as it does not react well with the acidity in tomatoes - but if that's all you have on hand, it should be ok) over medium/medium low heat. Saute the garlic (either the roasted garlic paste OR the minced garlic) until tender, roughly 2-3 minutes
2) Once garlic has sauteed, add the tomato paste and water (or, if you are looking for a different flavor, substitute red wine for water). Stir so it combines.
3) While garlic/tomato paste mixture is heating through, puree the whole tomatoes in a blender in batches. Add each blended batch to the pot until all the tomatoes are pureed.
4) Turn heat to medium, if not already. While stirring occasionally, heat the sauce until you just start seeing large bubbles form on the top (make sure to stir once in a while so you don't burn the bottom).
5) After the sauce is heated through, add the 2 onion halves and the remaining ingredients listed above (the dried herbs from Bay Leaves through Pepper). Set the heat to Medium Low/Low, and let cook for several hours to allow flavors to combine.
Notes:
Adjusting the Seasonings: Taste test your sauce periodically throughout the day with crusty bread. Adjust the dried herbs to your liking once it has been cooking for 2 hours. I find it takes at least 1-2 hours for the herb flavors to be drawn out, so if you taste it immediately after adding the herbs, it will not taste like the finished product. You may find due to the ripeness or under ripeness of the tomatoes, you need to add more herbs. Sometimes, depending on the batch, I have to double my seasonings.
You'll be surprised how easy it is to make homemade tomato sauce and meatballs. I warn you: once you start making it, it will be difficult to go back to the jarred/frozen stuff! There is something very satisfying to put a meal on the table you've made from scratch. Now I need to learn to make my own pasta, and I will be set!
Meatballs: I highly suggest making HOMEMADE MEATBALLS (this is my recipe - complete with video!), and adding them to the sauce for several hours. It changes the flavor in amazing ways.
Blanching: I made tomato sauce from fresh Farmer's Market tomatoes this week. It was amazing! Blanching helps you take the peel off without mutilating the tomato meat. See my post on How To Blanch Tomatoes for a step by step! It's really easy and took way less time than I thought it would.
Roasting Garlic: I will have a video on this in the near future, but it's very easy to roast garlic. Roasting mellows the flavor and turns the cloves into a paste-like consistency. GREAT to spread on bread or into dips/sauces. Take a whole HEAD of garlic, chop 1/2 inch from the top, exposing the cloves. Peel the OUTER layer of skin off (the papery part). Place in a square of tin foil and drizzle with Olive Oil. Wrap the garlic in the aluminum foil and place in a muffin tin (or any kind of baking dish, in case the oil leaks out). Roast at 400 degrees for 40-45 minutes, or until the package is soft. Let cool, and then squeeze the cloves out (you can use the wide edge of a knife or palm of your hand). Store in an airtight container in your fridge (or put it in your tomato sauce - yum!)
This is my standard sauce, and it always gets rave reviews. This batch is large enough for a large family meal with several nights of leftovers OR several containers worth of sauce to freeze. If you attempt homemade sauce for the first time, please let me know how it turns out - or what adjustments you made to make it your own!
Happy Cooking!