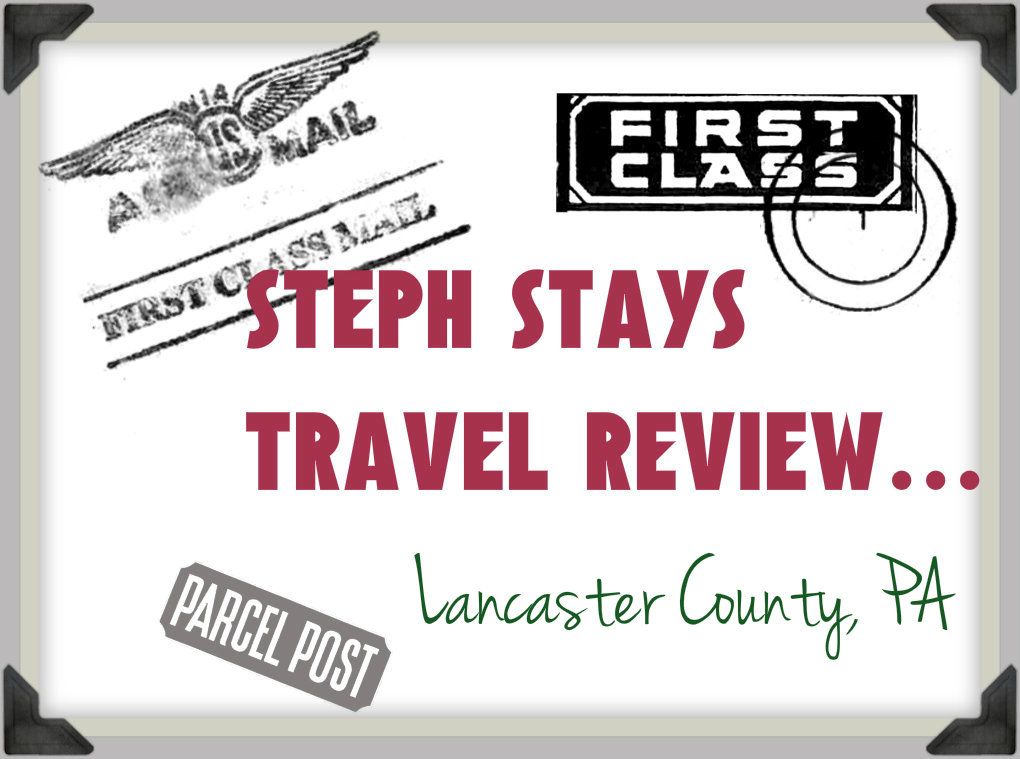 While the economy is improving, people are still simplifying and reducing their budgets to make ends meet. Our family has not been able to afford a big (read: more than an overnight in the local area) vacation for the past several years. Luckily, we live in the Philadelphia area, and there are so many great destinations to visit for fun staycations within a 2-hour drive.
What can I say? You all should move to Philly!
I recently had a chance to do a local staycation in Lancaster, PA. Having lived outside of Philadelphia my whole life, I've been to Lancaster lots of times. I've never stayed over though! And what surprised me most is that there is a ton to do in Lancaster. I took Hubby and Chica for a one night stay and visited three area attractions. We were kept busy all of Saturday, welcoming sleep when bedtime rolled around.
Thinking of trying to stay local this Summer? Or are you visiting Philadelphia and looking for a fun day trip? Here's my quick recap of a very fun overnight in Lancaster:
I have never stayed in a Doubletree before, but after this experience I will certainly be going back. Every guest is welcomed by a friendly staff and sent on to their rooms with freshly baked cookies.
YES.
Upon check-in, guests are given the most amazingly delicious cookies to enjoy while they make their way to their rooms. Lovely.
Hotel rooms are spacious, comfortable and (most importantly) clean. The resort has 2 restaurants on-site, and an easy drive to many more. If you are getting away for a little fun and relaxation, the Doubletree Resort boasts both an indoor and outdoor pool. Families can take advantage of the indoor Water Playground, which is perfect for young kids to enjoy.
I would highly recommend the Double Tree Resort in Lancaster to anyone looking for a quality place to stay in Lancaster, PA. Want a quick peek at our room? Check out my very impromptu video below:
I have memories of riding the train at Strasburg way back from when I was a little. So it was a joy taking Chica on the leisurely hour-long round trip through the Lancaster countryside. There are different cars for the train, from a simple open-air car to the air-conditioned and luxurious President's Car. Regardless of your seat, everyone has a fantastic view. The Strasburg Rail Road has special events throughout the year, including a chance to ride Thomas the Tank Engine! The Easter Bunny and Santa also make visits during their holiday seasons. If you want to do a fun evening without the kids, the Strasburg Railroad offers a fun Wine and Cheese car as well as a Murder Mystery Dinner!
Some of the cars and certain events offer dining on the train. If you are hungry before or after your trip, the Strasburg Railroad has you covered. The recently opened Trackside Cafe offers a spectacular selection for all palates: pizza, quesadillas, and sandwiches, as well as whoopie pies and ice cream! We had a delightful lunch before our train ride, complete with dessert. I had Shoo Fly Pie (a classic Pennsylvania Dutch dessert) for the first time in my life (spoiler alert: it is not made with ground up flies, despite what my dad used to tell me).
Even the most train-loving kids can get wiggly during the train ride. So when you plan your trip, make sure to download and print the fun Strasburg Railroad Scavenger Hunt I've created. Challenge your kids to find every item, or see who can find all the items first! Each and every item can be found during the train ride!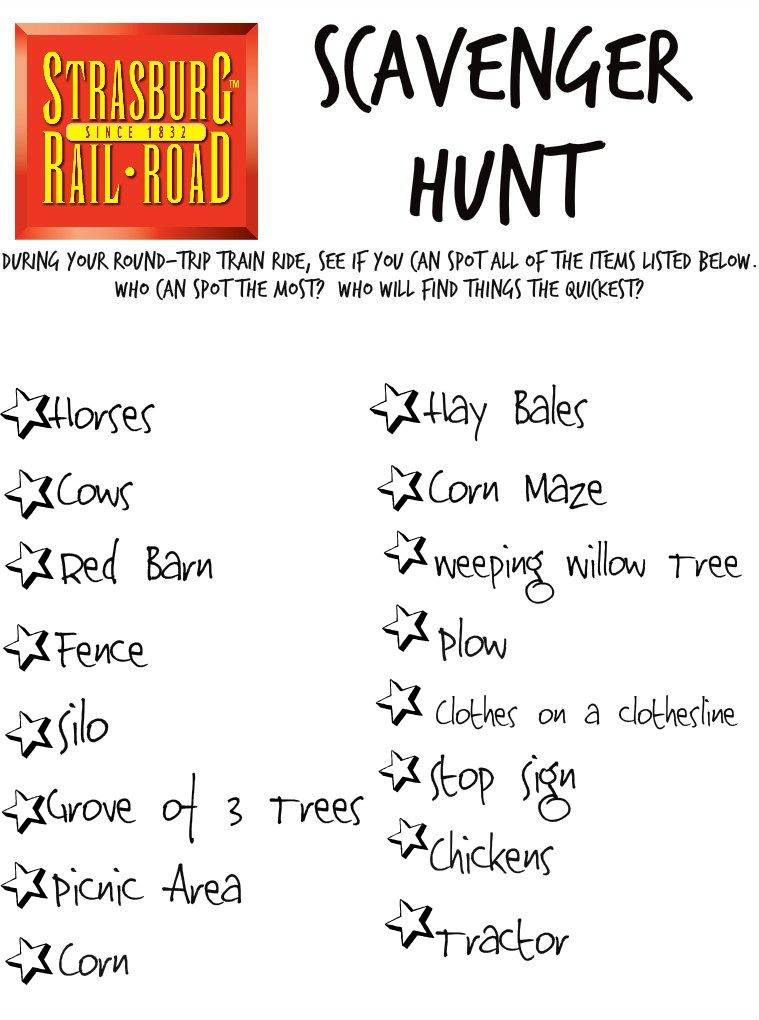 I was really not sure what I would think of the Choo Choo Barn when it was first placed on our agenda. But can I tell you I could have stayed there for hours? I didn't realize I would find miniature tableaus so interesting, but there was SO much to see! The Choo Choo Barn is a gigantic (like, 1700 square feet - which rivals my house, people) model train layout. The huge room is the setting for a circus (complete with a taco truck in the parking lot), a campground, various houses, a zoo, a rave in a cave (seriously) and even a mini Dutch Wonderland! I walked around the structure several times, gazing and trying to see every little detail. To give guests a different perspective, the lights are dimmed and it becomes "night" every 10 minutes. Every 5 minutes, there is a road accident, for which police and fire fighters are called for. Very fun for little kids! And let's be honest. Adults too!
In all my years living in Pennsylvnia (i.e.: all of them), I have never been to the Amish Village. The Amish Village is a must-visit for anyone who is a Pennsylvania resident, and a can't-miss for anyone visiting our awesome state! Started by a woman from Texas, believe it or not, the Amish Village is a learning experience that really sheds light on the daily life of the Amish people. The property holds a traditional Amish home, Amish store, Amish market and an Amish school house, as well as buggies, farm animals and a beautiful landscape. During the tour, our tour guide shared many facts that I had never heard before about the Amish, including their history or origination to family life.
Saturdays from 10am-4pm
, the

re is an actual Amish school teacher who you can hear from at the Amish school house on the back of the property. On the day we visited, our school teacher fielded many questions and gave a great overview on her role as a special education teacher in the Amish community. Very enlightening! We stopped in the Amish store, which is home to many souvenirs, including beautiful handmade quilts. If you think you know everything about the Amish culture, see if your knowledge passes the test at The Amish Village next time you are in Lancaster!
I feel fortunate to have so many travel opportunities near by, and at a price that is easy on the wallet. Even if you've been to Lancaster a thousand times, an overnight and new fun attractions can really make your visit brand new. Looking for more to do? There is mini-golf course in the area, as well as the shopping wonders that are Tanger and Rockvale Outlet Shopping, Dutch Wonderland, Hershey Park, restaurants and more. This is a great central location when planning a stay to Lancaster County!
Have you been to Lancaster, PA? Hoping to plan a visit this Summer? Share your story and leave a comment below!
Disclosure: I was provided lodging and entrance to the attractions. As always, all opinions are my own. Always trying to keep it real!