To Whom It May Concern:
Let me start off this letter by saying I LOVE FACEBOOK. Ask any of my friends, who will roll their eyes and say, "Yes, Steph is somewhat obsessed with Facebook." I find a lot of interaction on there, both on my personal page and my blog's Facebook page. I love interacting and building community.
Isn't that what Facebook is all about?
Now, over time, Facebook has grown, changed and improved. Often, we act like little kids when something new gets thrown our way on Facebook. We grumbled with how our news feeds changed, and all but had a heart attack when Timeline unrolled.
But the recent Facebook rumor mill has many page administrators all a twitter (pun intended) about the future sustainability of their pages.
Facebook has started Promoted Posts. Essentially, this means that page owners (whether they are businesses, brands, blogs, etc) can pay a sum of money to get more reach out of that content they post. A small fee may get a few more glances, a large fee (upwards of hundreds of dollars) promises that almost all of Facebook will ogle your posts.
Ok. That last part isn't true. But sort of.
I've been hopping between many angry rant conversations on Facebook the last few days. Groups I am apart of, pages I follow and personal friends have a lot to say on the matter of Promo Posts. Many are cranky that they have seen a drop in their reach and interaction since Timeline arrived on their pages, and some say they've seen a marked drop since the promoted posts started popping up.
I don't blame them.
I admit, I've been getting all hot and bothered about it myself. Although reading this post from Addicted 2 Decorating consoling me that Facebook is NOT out to sabotage my page makes me feel better. And Mama Cheaps good instruction on how to make Facebook Lists so you don't miss any updates from your favorite pages helps as well.
Here's what I think, particularly after some research. I believe that Facebook is not out to get us. But I do believe they are trying to make money. And while they are not requiring fees to use Facebook (or manage pages for that matter), I think that the promoted post statistics are deceiving. Possibly on purpose.
Not sure what I mean? Check this out.
Now that Promo Posts are here, every time I post, it let's me know how many people that particular post has reached. This is drawn from the Insights Data that we've already had access to. So, when I first post something, it may say only 18% of people are reached (which may be, like 144 people or something like that on my particular page).
As a page owner, we might find this disconcerting, so when the option to "Promote" that post for as little as $5 with the promise that 900 people could be reached, we are tempted.
But how do you know what you are getting for your money?
A friend who owns a photography business paid a small fee to promote a post. She was promised a large number would be reached. But at the time I spoke with her, only 21% of people had viewed it.
Where is the Return on Investment?
I've found that although many posts start with a small percentage, as more people are reached throughout the day, the percentage goes up. A post that only has 9% reach in the morning may be up to 44% by the evening. That's a nice reach for a small blog!
Lastly, the statistical data (i.e.: the percentages they are showing of people reached) is deceiving, which I think is also causing alarm for no reason. This is an actual math equation from posting that happened today (and while my numbers are small, I am still proud to use them):


As of the writing of this post, I have 667 page likes on the CSHM Facebook Page. One of my posts from earlier this morning (https://www.facebook.com/Confessions.Of.A.StayatHome.Mom/posts/396839067022005) had reached 584 people as of 11pm. Now regular math conventions tells me that 584 is roughly 87% of 667. But the post said it only reached 37%. WHAT? Am I misunderstanding "people reached?" When I click on the percent for further info, it says, "Only 37% of the 667 people who like your page say this."
Really? Who taught you algebra?
Here is a screenshot of the post in question: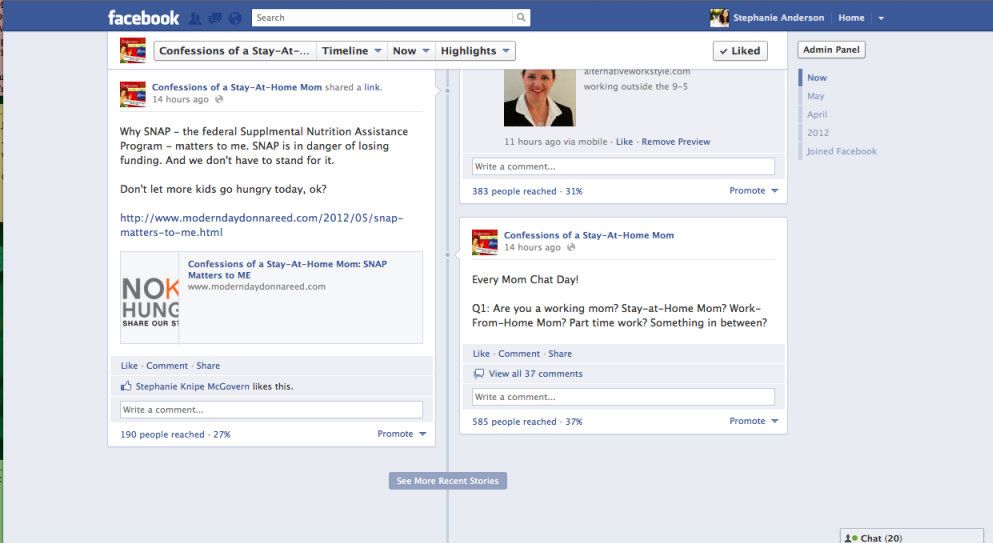 Notice the post on the right - where 584 people were reached (which is, according to Facebook, only 37% of my audience). Then take notice to the post on the left from around the same time. That post reached less people, only 190, which, according to Facebook, was 27%.
Wait.
What the what?
I'm not great on math, but if 190 is 27%, how is 584 only 37%?
The world may never know.
All that to say, the information is not clear nor is it consistent. And I think that the lack of clarity works in favor of Facebook scaring people into paying money to promote posts.
Now, I'm still unclear on whether or not less people are seeing my page because I am not paying for posts. Some say that pages are popping up less in their feeds. But according to Addicted to Decorating (and Facebook help center), Facebook has not changed how posts are being shared with those who like our pages. (And for a peace of mind, know that if someone has "liked" your page, their default setting IS for your page to pop up in their newsfeed - so no need to have people go back and do it).
So if you are a page owner, keep doing what you are doing. Share your content, interact, and work on building genuine relationships with your fans. If you are just a regular Facebook user and Page liker, keep interacting with the pages you love. The Facebook Algorithm is such that the more you interact with a page, the more it will show up in your newsfeed (or, use Mama Cheaps tip on adding them to a list).
In the end, I think we will most likely survive yet another Facebook change.
Or we're encountering the Zombie Apocalypse.
Either way, good times to be had by all.