Macaroni Salad is a staple cookout side dish. Everyone does it different, everyone has their preferences. Some tend toward being heavy on the mayonnaise, others aim for italian flavorings. I've been making the same macaroni salad for as long as I can remember. I learned this ridiculously simple recipe from my mom, who whipped up this salad every time we grilled in the Summer. Another reason I love it? I have 2 words for you:
Four. Ingredients.
That's it!
SO EASY. And I've found it to be a real crowd pleaser.
I posted this recipe a long time ago in my Memorial Day Cookout Menu, but felt it deserved a post of it's own. It can be tweaked to your preferences, and I'll share a few notes and tips at the end.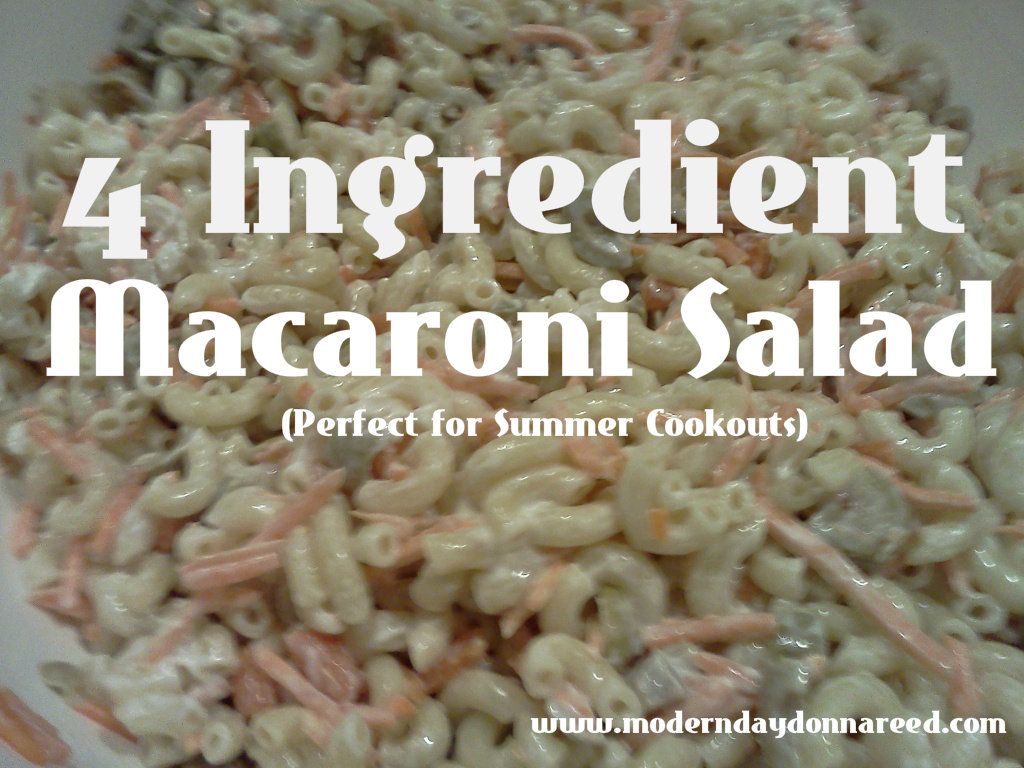 1 box (1 lb) Elbow Macaroni, cooked, drained and cooled according to package directions

1 6oz-8oz jar of chopped green olives with pimentos (reserve 4 TBS of the olive juice from the jar)

1 cup shredded carrot

3/4 to 1 cup of mayonnaise
Toss the pasta, olive juice and mayonnaise (if you like mayonnaise, use the higher amount listed). Add chopped olives and shredded carrots.


Combine thoroughly and enjoy
!


Notes:

~ If you like creamier macaroni salads, use 1 cup of mayo. If you like less, use closer to 1/2 cup. I find that 3/4 cup works for me. I usually use LIGHT ma yo.

~My mom chops a few stalks of celery and throws it in. Since I dislike celery, I skip this step.

Simple yet tasty. Pairs really well with grilled chicken! To find more inspiration, check out my Memorial Day Cookout Menu, which has links to 2 other cookout menus.


What is your favorite Macaroni or Pasta Salad to serve at cookouts? Share your recipes in the comments below or email me!
[
moderndaydonnareed@gmail.com]