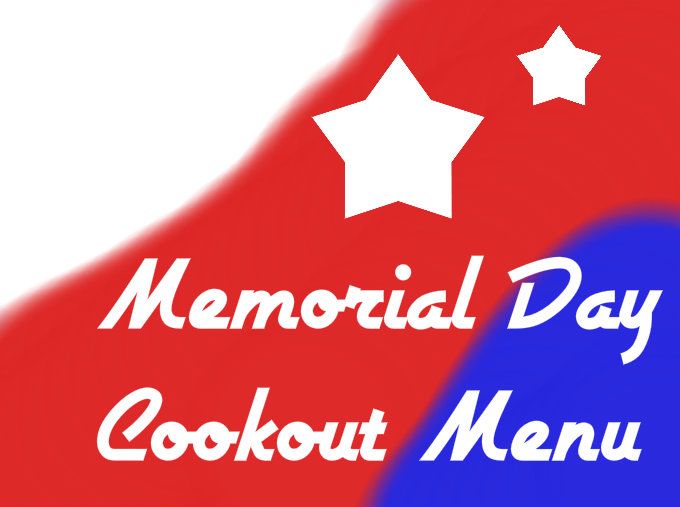 ** 7/4/09 Editor's Note: Check out the recently added 4th of July Cookout Menu for even MORE ideas and recipes! **
**9/3/09 Editor's Note: Check out the recently added Labor Day Cookout Menu for even MORe ideas and recipes! **
Tomorrow is a great holiday for grilling. The weather forecast for the Philly suburbs looks beautiful. I'd like to share some good grilling recipes now, so you can get out to the grocery store TODAY to get the ingredients for your own BBQ!
My hubby and I have been grilling a lot for the past few weeks, for several reasons:
1) The weather has been nice and warm (AND it doesn't heat your house up when you cook outside!).
2) We like the way grilling tastes (we have a charcol grill)
3) Grilling can be a healthy way of cooking!
So, let the grilling begin!
Steph's Summer Cookout Menu
~~
I found this marinade recipe a few weeks ago, and we've been obsessed with it. You can use Beef (London Broil, or any kind of steak) OR Chicken, and it turns out SO tasty. I love that is versatile, and can be used with different kinds of meat. The grill times listed below are approximate, especially for the beef (depending on if you like rare or well-done). When grilling beef, always let the meat stand for 5 minutes after grilling, so the juices can redistribute!
~~
____________________________________
Awesome Grillin' Marinade
____________________________________
1 2-3 lb steak, 1-inch thick (look for the label "London Broil") OR 8 pieces of chicken (your choice - I like boneless skinless chicken breast)

3/4 cup olive oil

1/3 cup low sodium soy sauce

3 tablespoons Worcestershire sauce

1/4 cup red wine vinegar

1/3 - 1/2 cup Real Lemon from the bottle

1 tablespoon dry mustard

2 tablespoons minced fresh parsley

1 clove garlic, crushed or 2 tablespoons of crushed jarred garlic
Combine ingredients (minus meat) in a bowl and whisk vigorously (until well combined). Place meat into a container (I use a gallon sized Ziplock bag, often double bagged) and pour marinade in (feel free to reserve a small amount for basting while you grill). Marinate for 2 -3 hours. Cook over medium hot coals (or medium-hot heat on a gas grill): 5-10 minutes per side for London Broil/beef, 5-8 meats per side for chicken. Times will vary with different meats and different grills.
~~
What is a BBQ without some side dishes to go along with it? Here are some great ones I find tasty and easily thrown together!
The first recipe is good as a side OR an appetizer, and is a unique take on garlic bread.
~~
_________________________________
Cookout Recipe #2
__________________________________
1 loaf of french/italian crusty bread

Oil

2-3 tomatoes, cut in half

2-3 cloves of garlic, peeled
Cut bread into 1-inch slices (as many or as little as you'd like. When it's just my hubby and I, we cut 2 slices per person. If we are serving several people, we cut the whole thing). Brush oil on both sides. As you are cooking on the grill, throw on the bread, watching carefully so as not to burn. Toast until brown on each side (roughly 1-2 minutes per side). Take the bread off the grill. Rub each side of the bread vigorously with the garlic (it will melt onto the bread). Then Rub each side of the bread with the cut side of the tomato a few times, until the bread is slightly pink. Enjoy!
~~
I also like having a pasta salad of some sort. Pasta salads come in all shapes, sizes and flavors. This is a VERY simple pasta salad that my mom always made, so it is near and dear to my heart! I also like to think of it as a blank slate, so if you don't like some of the ingredients, don't use them...or add new ones!
~~
__________________________________
Cookout Recipe #3
__________________________________
1 box (1lb) Elbow Macaroni, cooked, drained and cooled according to package directions

1 cup of chopped green olives with pimentos (reserve 2 TBS of the olive juice from the jar)

1 cup shredded carrot

1 stalk of celery, chopped (I don't like celery, so I don't use it!)

1 to 1-1/2 cups of mayonnaise
Combine the pasta, olive juice and mayonnaise (if you like mayonnaise, use the higher amount listed). Add chopped olives, celery and shredded carrots. Combine and enjoy!
~~
And what is a great BBQ meal without dessert! Many of the recipes I have listed under "Tasty Treats" would complete this meal (click the link on the side). Here is one I found from another blogger friend,
Cooking With a Plan
. Check out her blog, and find the
master recipe
for this light and fresh summer dessert. I'll copy it below as well.
~~
_________________________________________
Cookout Recipe #4
Strawberry Sugar Cookie Bars
__________________________________________
1 package of store bought sugar cookie dough (in the refrigerated section)

1/4-1/2 cup of strawberry jam (do it by feel)

1 cup fresh strawberries (hulled and sliced)
Smooth out the dough onto a small rimmed baking sheet. Poke holes in it with a fork and then bake according to the time and temperature on the package (don't overbake it...let it stay soft and chewy).
Allow to cool and then a layer of jam over the top. Then layer the fresh strawberry slices on top. Cut into squares and enjoy!


*You could totally double this and just use two or more packages of cookie dough. Then you could use a larger baking sheet.
**This dessert recipe is best eaten the day you make it, as it becomes a bit of a gooey (but still tasty!) mess thereafter.
~~
So, there you have it! A complete Summer Cookout Menu, recipes and all. What are YOU having for dinner on Memorial Day?
Do you have any great recipes for cookouts: summer desserts, grill marinades, or side dishes? Pass them along to share with the rest of the community!
moderndaydonnareed@gmail.com