So here we are! First week of "checking in." Each week I'll share a bit about my experience/work out at the Kennett Area YMCA
,
the soundtrack that is inspiring my activity/work that week, a healthified recipe (either one of my already-posted healthy recipes OR a makeover of one of my less-than-healthy already-posted recipes), as well as an update on my overall progress (even if it means "no update." I'm always trying to keep it real).
Without further ado...
The Y:
First Impressions and Indoor Track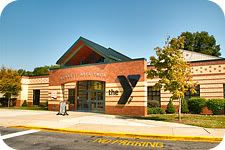 I've been a member of a local YMCA since high school, so when I moved to my current residence (about 30 minutes away from my hometown) and had the opportunity to try their facilities, I jumped at the chance! With the tagline that they are #1 in the Country For Customer Service, I figured it couldn't be all that bad.
And I was blown away! Upon arrival, I was greeted by a nicely renovated building, with ample parking. The inside was bright and airy. Some of the bigger ("meathead") gyms intimidate me, but there is something about the YMCA that makes it more down-to-eath and welcoming.
I had to initiate my membership, and true to their claims, the customer service was impeccable. Come to think of it, the handful of times I've been there over the past 2 weeks, I've literally been greeted (with a smile, nonetheless) every time. I know it sounds like I'm cheesing it up here, but I was truly impressed by how cheerful and helpful all the employees have been.
My membership was completed, and I was offered a tour, but could not stay the first day. The next day I came back during Little Chica and Bitty Bug's nap time, around 1:30pm. There was still a surprising amount of people and activity. When I walked through the doors, I went to the service desk and (sheepishly) asked where the indoor track was. I decided that after 14 months (between being pregnant and getting through the first 6 months of newborn-ness) of nearly non-activity, I wanted to try my hand back at jogging.
Even if it killed me.
The lady who took on my question was nice, and didn't make me feel stupid at all for asking such a...stupid question. She directed me up the steps. I quickly found my way to the indoor track. After a bit of stretching and silently pumping myself up, I hit the track.
First jog in 14 months: 1.25 miles.
I forgot to look at the clock, so I'm not sure how long it took me. I'll focus on endurance for now. The track was a great tool to use, as I tend to get bored on a treadmill (although the cardio machines at the Kennett Y are AWESOMESAUCE. More on that next week). When I get bored, it's much harder to complete a run. But on the track, I can watch the pick-up games of basketball happening in the gym below, glance out the window for a different view, and focus on the other runners and walkers. It helps me pass the time!
I was feeling slightly more ambitious on my second trip to the Y. Maybe I was still high off of my first trip's success, and was empowered by my newly reinstated active lifestyle. But I woke up 2 days after my first trip and said, "Today I'm going back to the Y to work out. And I'm going to kick some butt."
So I ran to the Y.
Literally.
And here I am using the term "ran" very loosely.
I live in the borough of my town, exactly 1.1 miles from the Y (which is also in the borough). It is a pretty straight-forward route to get there. And while the average onlooker might have felt uncomfortable watching me pitifully throw my legs forward over and over while I slowly made my way to my work out center, I MADE IT.
So booyah.
Since my cardio was out of the way, I did some sit ups and stretching before heading home. It was a nice change of pace from the average "hit the gym" workout, and I think having the Y as my goal in running will help me get better at running.
My goal: to complete a 5k before the end of 2011.
Hold me to it.
More to come next week!
(I make no apologies for my random and awesome taste in music)
1. When I Come Around - Greenday
2. Smooth Criminal - Alien Ant Farm
3. Move Along - All-American Rejects
4. Be My Yoko Ono - Barenaked Ladies
5. Anna Begins - Counting Crows
6. You Found Me - The Fray
7. Booty Call - G.Love
8. The Most Beautiful Girl in the Room - Flight of the Conchords
9. La Vie Boheme - Rent Cast/Soundtrack
10. Walk This Way - Run-D.M.C
Healthy/Healthifed Recipe
This recipe is a staple and huge favorite at our house.
I posted it the blog about a year ago
, and have found it to be a GREAT alternative to the bad-for-you ground beef tacos we used to make. I was horrified to find out that ground turkey and ground chicken are not as good for you as you might think. By using boneless, skinless chicken breasts, I am able to control the kind of meat and amount of fat going into the tacos. We use healthy toppings: shredded
Cabot 50% Reduced Fat Cheddar Cheese
, arugula and tomatoes. We shop for the Whole Grain taco shells, or sometimes opt for a tortilla instead. The next day, we use the chicken to top salad greens, and use some of the reserved cooking juice to make a GREAT salad!
Steph's Shredded Chicken Tacos
2-3 Boneless, Skinless Chicken Breasts

1 large can of Red Enchilada Sauce

1 4.5 oz can of diced chile peppers

1 onion, sliced (optional)
1) Spray slowcooker insert with cooking spray.
2) Arrange chicken in the bottom of the slowcooker
3) Pour Enchilada Sauce over chicken.
4) Cook on low for 5 hours (every slowcooker is different, so adjust according to your own!)
5) Once chicken is cooked, shred it with 2 forks in the sauce (or, on a plate and return to sauce).
It was my first week, so I can't say I made progress. But I can (boldly and proudly) give you my starting weight: 148. We'll see how I am by next week!
I'd love for you to join me on The Journey to Healthified. You may not live in my town (or even my state), but you can check in each week on the Journey to Healthified post comments. Share your workouts, your soundtracks, your healthy/healthified recipes and YOUR progress.
If you are up for the challenge, leave a comment on today's post sharing YOUR GOALS, and then check back next week!