Sun. Friends. Fireworks. Grills.

The 4th of July is definitely a holiday to look forward to. Everything about it is...celebratory! Many people spend this weekend at the beach or on vacation elsewhere. Some like to spend it local, living it up in the city (here, we are talking about Philadelphia), enjoying live music and amazing fireworks shows. Others, like me, enjoy spending this holiday chill: Hanging out in someone's backyard (having a swimming pool in said backyard would be optimal), having a BBQ with friends.
I love knowing that on 7/4, there will be grills smoking, fireworks blasting, and good conversation around every corner. There is no better way to spend the 4th of July than having a cookout with loved ones. Or any people willing to bring good food.
Here is a menu I put together of food I deem respectable cookout fare for this holiday weekend. Hopefully you can glean even one recipe to enhance your time with friends and family.
~~~~~~~~~~ ~~~~~~~~~~ ~~~~~~~~~~ ~~~~~~~~~~ ~~~~~~~~~~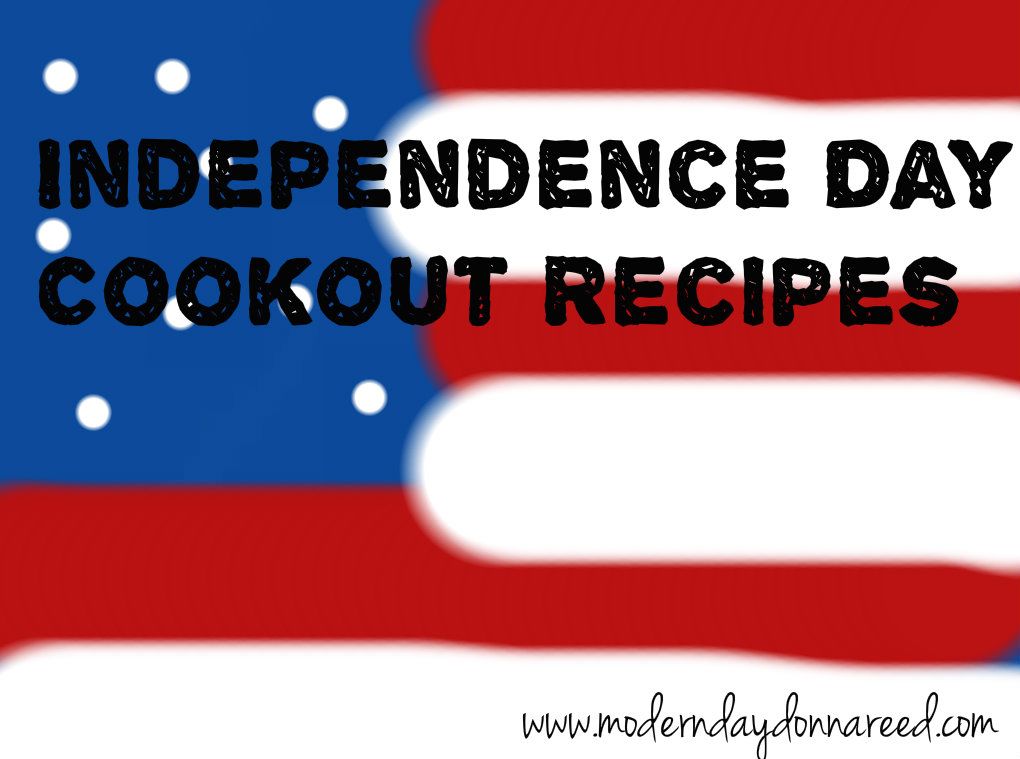 I was inspired at a recent birthday celebration with this appertizer. This dip is a crowd pleaser, and big enough to go around. I added a few more ingredients according to my tastes, but add and subtract as you desire.
2 Blocks Cream Cheese, softened

1 can Refried Beans

1 can Sliced Black Olives

1-2 cups Salsa

1-2 cups Shredded Mexican Blend Cheese

1/2 cup Diced Onion

1/2 cup Diced Red Pepper
On a serving platter, spread cream cheese so it covers entire bottom. Layer each of the next ingredients through Cheese. Sprinkle Onion and Red Pepper over top.
Serve with Tortilla Chips.
(Note: I think a layer of guacamole would be heavenly, but I didn't want to go overboard...)
------------------------------------------------------------------------------------------------------------
Whenever we want to grill burgers, my husband insists that he enjoys the homemade burgers I have made in the past. The only problem? I never keep the recipe(s) I use to create them! I also only have felt so-so about the previous recipes. Recently, I scoured the internet for GOOD homemade burger recipes. I took a few things from several recipes and concocted the master recipe posted below. (If you have a good homemade burger recipe, I'd love to try it out!). We served these topped with cheese. They were really tasty and moist - a good combo in Burger World. Next time, I think I would serve these burgers with a slice of pineapple. YUM!
Main Dish
1 lb 80/20 Ground Beef

1 TBL Ground Coriander

1 tsp Paprika

1 packet Lipton's Beefy Onion Soup Mix (dry)

3 TBL Worcestershire Sauce

1 (heaping) tsp minced Garlic

1 tsp Black pepper
Combine all ingredients and form into patties. Grill until juices begin to run out. Serve on buns with Cheddar or American Cheese, Tomato, Lettuce, and Onion. For more unique topping ideas, try Bacon Strips, Pineapple Slices, Fried Onion Straws or Sliced Brie.
Makes 4 patties (so if you are having a larger party double/triple the recipe).
------------------------------------------------------------------------------------------------------------
What is a cookout without side dishes? Sometimes I like the sides better than the main dish, and I unfortunately fill up on them. Here are 2 options that are SUPER EASY (almost to a fault), and possibly overlooked.
Roasted (or Grilled) Asparagus
1 bunch Asparagus

1 TBS Olive Oil

1 tsp Garlic Powder

1 tsp Minced Garlic (I usually use jarred)

Pinch of Salt

Pinch of Pepper
1) Prepare asparagus spears by snapping off tough woody bottoms (bend the stalk at it's natural breaking point, about 1 to 2 inches from base).
2) Rinse and place on a roasting pan (with sides).
3) Drizzle with Olive Oil.
4) Sprinkle Garlic Powder, Minced Garlic, Salt and Pepper over the stalks. Toss to combine evenly.
To Roast

: Keep asparagus on roasting pan. Place in 400º oven for 8-10 minutes, shaking pan halfway through.
To Grill

: Using tongs, place asparagus on grill, perpendicular to grates. Grill 5 minutes on each side, or until tips start to brown.
1 large bag of Barilla Spinach and Ricotta Tortellini

1 bottle of Italian Dressing
1) Cook/boil tortellini according to package directions.
2) Drain and place tortellini into a serving bowl.
3) Pour Italian Dressing over tortellini until well coated.
4) Cool in refrigerator until ready to serve.
(I know, it's a sin this dish is so simple. But I love it EVERY TIME, and it goes over well with any crowd. Sometimes, the best and tastiest of recipes are those that are so simple they are overlooked)
------------------------------------------------------------------------------------------------------------
My favorite: Dessert! When there is a cookout, I usually opt for S'Mores, done over the still-flaming coals. Here are some other desserts to consider for your cookout celebration! The first recipe I got from fellow blogger, Cooking With A Plan
. The recipe sounds so tasty, and I can't wait to try it ou
t!
1 cup powdered sugar

1 tsp vanilla

8 oz. carton Cool Whip, thawed

1 can blueberry pie filling*

Baked pie shell (she used graham cracker)
Mix cream cheese with sugar and vanilla in a large mixing bowl.

Fold in the Cool Whip and spread mixture into pie shell.
Cover with blueberry pie filling and refrigerate until ready to serve.
The second recipe is one I have recently posted, but felt it would be a nice staple to have on hand at a cookout (thank to my MIL for sharing the recipe with me!)
1 box brownie mix (with ingredients listed on the box - varies with each mix)

2 tsp cinnamon

1/2 tsp of cayenne -OR- chipotle pepper powder
1) Empty dry brownie mix into a bowl. Add cinnamon and pepper to mix.
2) Add remaining wet ingredients, according to brownie mix box (eggs? oil? water? butter? Each box is different).
3) Bake according to package directions.
4) EAT 'EM UP!
~~~~~~~~~~ ~~~~~~~~~~ ~~~~~~~~~~ ~~~~~~~~~~ ~~~~~~~~~~


There you have it! I hope you find some inspiration amongst these recipes. I would LOVE for you to share your favorite cookout recipes as well! There is plenty of summer left, and lots of grilling to be done. I am always looking for more things to try on the BBQ...


Email me so I can share them with the rest of the community!


Happy Independence Day!