If you know me, you know I have a bit of a sweet tooth.
And by bit I mean a monstrosity not to be reckoned with.
I don't try to talk rationally to Sweet Tooth. I just know he (she?) must be sated lest I'm taken over all together. Sweets and desserts are one of my greatest downfalls. I don't know about you, but avoiding sweets tends to backfire on me: I may last a day or 2, but then all bets are off. On Day 3 you may find me hunkered down in the pantry white-knuckling a spoon in one hand and a half-eaten jar of Nutella in the other.
Yep. It's not pretty.
This is a bit of an obstacle in my journey to be more healthy. While I don't prescribe to one particular diet, I've been more mindful about WHAT I eat, WHEN I eat and WHY I eat. Am I eating mindlessly when I'm not even hungry? Am I eating bigger portions than I should be? Am I eating refined foods unnecessarily?
Overtime, I've learned some things about healthy eating. I don't believe that sweets need to be completely removed from a diet. Rather, they need to be eaten (like most things) in moderation. I've taken to using substitutions in baking when I can: unsweetened applesauce or honey to sweeten things up. Or, just cutting back on the refined sugar and getting used to the less sweetened flavor.
While I may indulge in (read: gorge myself with) a super sweet dessert every once in a while (hey, we can't all be perfect), I've found a few treats that I've really come to like. They are healthy, with reduced sugar or substituted with other sweeteners (not artificial sweeteners, mind you. I'm not down with them), and are like salve to my cravings. I keep the ingredients on hand, and when I get the urge hits, I whip up one of these treats to appease Sweet Tooth.
Some are simple concoctions that I throw together, others are baked goods. I've made all of these recipes listed below, so I can say first hand they are tasty (and believe me, with the kind of Sweet Tooth I have, a healthy dessert recommendation from me should go a LONG way). Not all the treats are as unrefined as I'd like, but it's small steps, friends.
Small steps.
PS - for those on Weight Watchers, most of these treats are 2 points or less!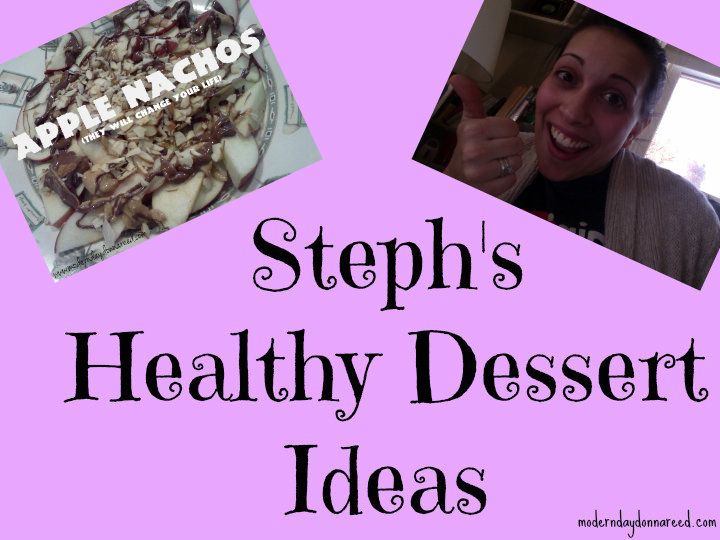 Berry Cobbler
I came across this Berry Cobbler Recipe from Living A Changed Life. It looked good, and believe me: IT IS. This is the dessert I make most of the time (usually once a week, and we enjoy it over the course of a few days). I usually put a dollop of whipped cream (not Cool Whip) on top. Just enough to make it decadent.
Crustless/Self-Crusting Pumpkin Pie
I'd seen various versions of this recipe floating around for a while. I recently had half of a leftover 30 oz can of pumpkin puree sitting in my fridge and decided to try it. FANTABULOUS! I had run out of nonfat dried milk, so instead of the dried milk and water, I used a 12 oz can of evaporated skim milk (I baked it a little longer), and the end result was fab! SO CREAMY!
2 Ingredient Pumpkin Spice Muffins
Oh these are fun little treats. Again, not quite unrefined (it uses boxed cake mix), but it's a great little treat to hit the spot. The recipe I posted a few years ago calls for yellow cake mix, but I think it tastes better if you can use Spiced Cake Mix.
For recipe: 2 Ingredient Pumpkin Muffins.
Frozen Blueberries and Whipped Cream
Simple, simple, simple. I don't know what it is about this little concoction, but I LOVE it. Maybe it's because I love ice cream so much? Anyway, I just take 1-2 cups of frozen blueberries (depending on how hungry I am) and top them with a little bit of whipped cream. That's it. So yummy (and full of nutrients!)
Yogurt and Whipped Cream
Another take on the above dessert. And what is it about whipped cream that makes everyday food into a dessert? I like the Yoplait Light flavors like Pineapple Upside-Down Cake, Raspberry Cheesecake and Key Lime Pie. I just dump it in a bowl, spritz it with some whipped cream and MWAH. Dessert.
Apple Nachos
Now, depending on how you make these treats, they can be quite NOT healthy. Recently, when I've been making them as a post-dinner treat for me, Hubby and the kids, I use about 1 TBS of peanut butter and 1 TBS of Nutella. Just enough to give it some sass. If you want to go a little further (without going too crazy), add a few tablespoons of chopped almonds (heart healthy, friends!) or raisins.
For recipe, see pin or go to: Apple Nacho Recipe
Banana Bread
Here are 2 great recipes for healthified Banana Bread. The first is a slimmed-down version of my regular Banana Bread. I cut back the sugar and subbed out butter for applesauce.
For recipe: Healthified Banana Bread
Another healthy banana bread recipe is one that was passed along to me from Hubby's grandmother. I call this "breakfast bread" because it's so healthy and filling. Now, it is a nice dense quick bread, but uses far less sugar - so don't be surprised when it's not as sweet as you might expect. But still very tasty. I love this with tea or coffee in the morning (or evening).
For recipe: Cinnamon Pumpkin Banana Bread
Sometimes it's the simple things in life (and eating habits) that really go a long way. Don't deprive yourself! Enjoy the good things in life - but in moderation!
What are your favorite healthy/healthified
desserts and tasty treats?
Leave a comment and inspire our recipe boxes!
Link up YOUR Motivation Monday posts

Whether it's a healthified recipe or fitness tip as your motivation toward a healthier lifestyle, parenting advice or encouragement on your journey as a better parent, thoughts on marriage as you better yourself as a spouse, we want to hear about it! Share YOUR posts about motivating yourself to be BETTER below.