So, we've all commiserated over the fact that most of us have never actually met in real life. We talk about how fun it would be to do a GNO, enjoying food, drinks and laughs. One of these days, I want to pull that off. Until then, I'm offering an online GNO for the holidays!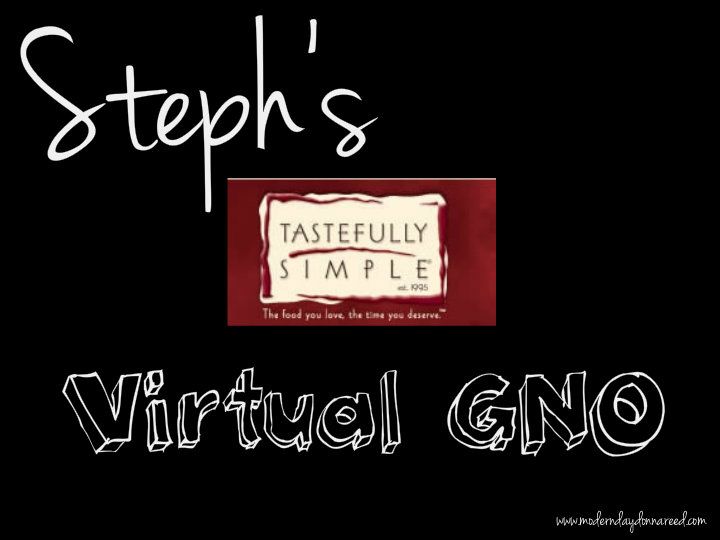 Boom.
So yesterday, I shared on the CSHM Facebook Page that I went to my first Tastefully Simple party yesterday with consultant Kelly Corey. I'd never had their stuff before but Z.O.M.G. I loved it! First, it was fun being at a party at my friend, Kate's, house. Second, my friends and I got to chow down on yummy appetizers from the Tastefully Simple catalog. Then we got to go through the catalog with Kelly and fill up our order forms.
Did I mention you get to plunge crackers and yummy bread into yumyum dips?
Yeah. That was my favorite part.
When Kelly said I could run a party for my readers (you - squeee!) WITH some giveaways, how could I say no?
It's like a GNO! But the eating and drinking are virtual!
First: head over to My tastefully Simple Catalog Party
Second: give Kelly some love on Facebook.
Third: Go eat something because looking at the catalog will inevitably make you drool with hunger.
Fourth: Order stuff. Think about having dips and mixes on hand for entertaining during the holidays ("Oh HELLO random and unexpected holiday guests! C'mon in! Don't worry - I have plenty of food because I ordered a bunch of nom noms from Tastefully Simple!") or grab presents and stocking stuffers for fam and friends! Party closes November 30, and you'll
receive orders in time for the holidays!
Fifth: ENTER THE GIVEAWAYS! (See below for more info)
Tastefully Simple Giveaway
There will be two (2!) giveaway winners! One winner will receive a free Beer Bread Mix (it's heaven in a loaf of bread. Srrrrrsly). This is open to anyone - whether you place a TS order or not.
A second winner will be picked from the orders and will receive 1 item FOR FREE valued at $10 or less.
To enter the open giveaway (no orders required) to win a Beer Bread Mix,

leave a comment below

and let me know which

Tastefully Simple

item(s) you want to try this holiday season!
All catalog orders will be automatically entered to win the second giveaway of 1 free $10 item!
~~~~~
I may not be able to meet up with all of you this Friday night (but WE WILL MAKE IT HAPPEN! NATIONWIDE GNO here we come!), but I figured this was the next best thing. We can do more chatting about holiday entertaining, food, and Tastefully Simple stuff over on the CSHM Facebook page.
Happy ordering AND winning!