Everyone is trying to save money nowadays. From clipping coupons to using online auction sites, frugality is the name of the game! eBay continues to be a great way to make money if you are selling or saving money if you are buying.
To make your life even more simple, they have some awesome mobile apps so that saving money is just a few swipes of the smartphone. Especially with the holidays approaching, these apps will be your lifesaving devices to keep you afloat during holiday shopping! Here are 3 eBay mobile apps that caught my eye and I can't wait to start using: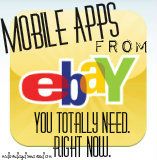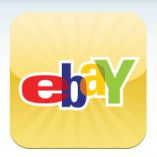 Until the mobile apps became available, people were glued to their computers if they were bidding on or selling items on eBay. If the bidding gets heated on a must-have item, one lost minute could be the difference between winning or losing an item!
The eBay mobile app means you can be anywhere and check in on your items. You can also list items from this app as well!
Being from Philadelphia, sports and concerts are a huge part of our culture. Sometimes, suddenly finding yourself free last minute means frantically trying to get tickets to the playoff game later that night, or finding some way to get into that concert you'd been excited to see.
The StubHub apps gives the you ability to get tickets on a moments notice, fan-to-fan. I think this is also great if you are trying to get tickets for a loved one who may live with you. I can't tell you the countless presents that have been spoiled because one of us have forgotten to erase the browser history on our laptop! Now, you can make secret ticket gift purchases from your phone, and the recipient will be none-the-wiser! Score!
Now this app really blew my mind, and I foresee this one being really helpful as I'm shopping. Part of shopping is comparing prices. I've been that mom in a store, price comparing items (and trying to look up the same items on other store's websites to see if another company is selling said items cheaper), all the while screaming children are hanging off my body.
The Red Laser app is a fantastic barcode app. Here's what you can do with it: Find an item you want, scan it, and the app instantly price compares for you! If you are grocery shopping, scan the product you are short on from home and it is added to your grocery list. Can you tell I'm totally swooning??
How excited are you to GO SHOPPING? Head over to the eBay mobile site and get to downloading those helpful apps (there are even more on the site).
Also? There is a super fun Twitter Party and Giveaway coming up. Here are the deets:
Twitter Party & Giveaway
They'll be giving away $25 eBay gift card prizes very 15 minutes! A fun way to spend your afternoon and possibly win some prizes. Make sure to try out eBay's mobile apps before the excitement begins
Make sure you must RSVP here and participate in the party using #eBayMobile hashtag while tweeting from the www.ebay.com/mobileshopping page. (Note, if you tweet from another platform you will not be eligible to win). Anyone who RSVP's will be entered to win a $100 eBay gift card!
This campaign has been brought to you by Splash Creative Media on behalf of
eBay
Mobile. I was compensated for my post, but my words and opinions remain my own