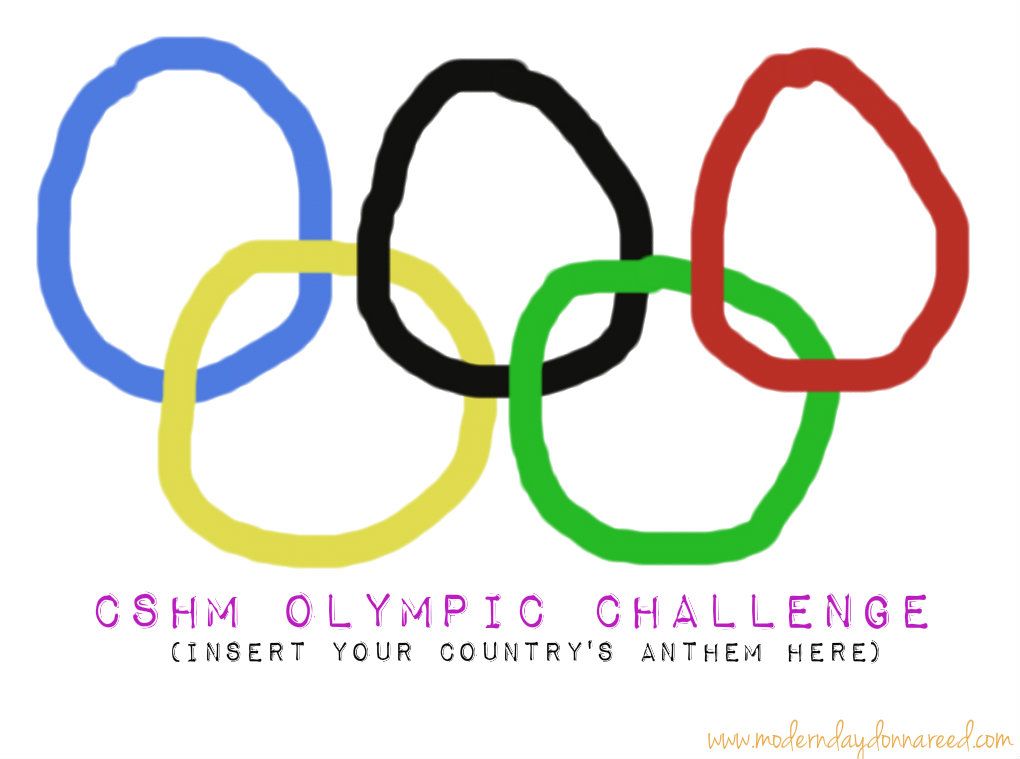 Here's the thing: I'm most likely never going to be an Olympian.
Just sayin'.
And I'm going to guess that most likely?
You aren't either.
But why should the Olympic athletes have all the fun?
I've decided to create a rad Olympic Challenge for all you CSHM Readers and Facebook Fans!
I know, I know.
You're all, "But Steph! I haven't run since before NEVER! I can't throw a shot-put to save my life! Swimming? Try Doggy Paddle!"
And I'm all, "Don't worry. I've got you covered."
Below is a graphic (you can enlarge it and even print it: just click on it to enlarge, download it and print) of at-home/in-community challenges. All you have to do is choose whatever "events" you'd like to participate in. You can choose one. Or 5. Or all. Complete each event and document it with a picture. Upload the picture(s) to the CSHM Olympic Challenge Tab (top of the page near the "Likes" tab), share it in a message or on the CSHM FB Wall anytime between Monday, August 6 - Friday, August 10 (although due to popularity, this may be extended - stay tuned).
I will award medals and accolades for things like Most Unique Picture, Funniest Picture, Most Events Completed. Possibly more. Since I'm, you know, not made of money, the best I can do is give you a virtual high-five, draw you a fun picture or film a video for you.
But who knows? Maybe there will be real prizes. I'll keep you updated.
Either way, it will be a fun way to spend our week. Hopefully, these events will get you out and about with friends, family or even for some alone time. I look forward to seeing what you come up with! I'll do my best to complete as many as possible as well.
You in?
The fun starts MONDAY! So start working on those events!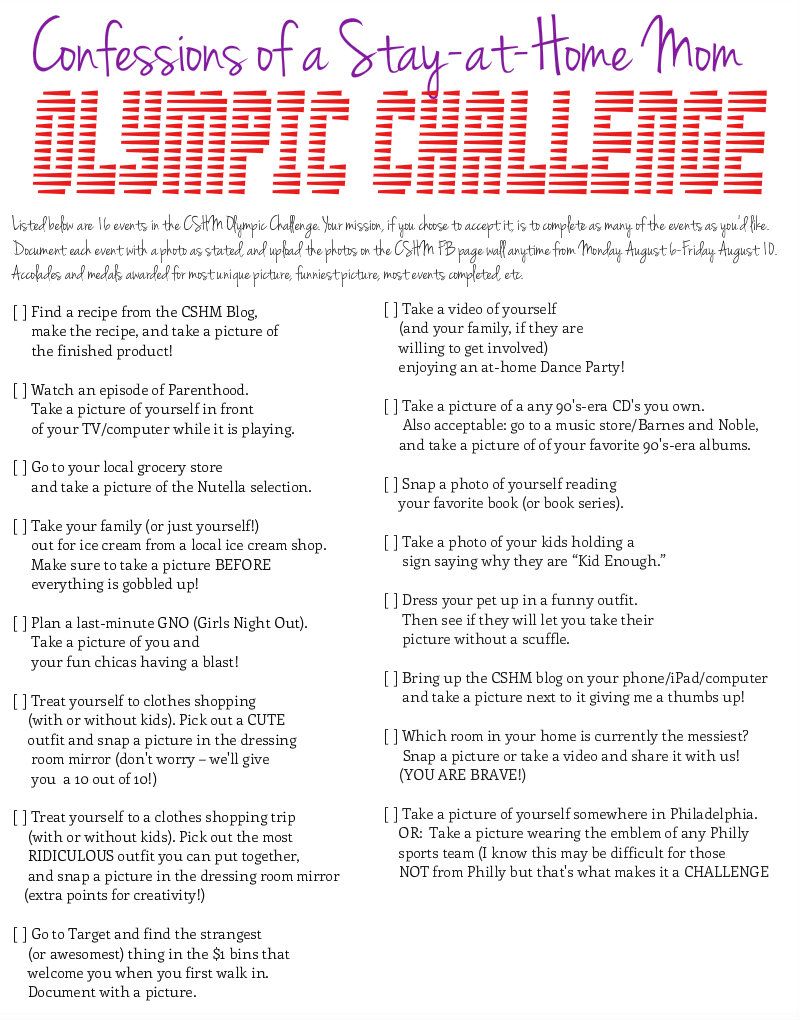 May the odds be EVER in your FAVOR!
(For simplicity, I've listed the CSHM OLYMPIC EVENTS below as well)...
make the recipe, and take a picture of
Take a picture of yourself in front
of your TV/computer while it is playing.
[ ] Go to your local grocery store
and take a picture of the Nutella selection.
[ ] Take your family (or just yourself!)
out for ice cream from a local ice cream shop.
Make sure to take a picture BEFORE
everything is gobbled up!
[ ] Plan a last-minute GNO (Girls Night Out).
Take a picture of you and your chicas having a BLAST!
[ ] Treat yourself to clothes shopping
(with or without kids). Pick out a CUTE
outfit and snap a picture in the dressing
room mirror (don't worry – we'll give
you a 10 out of 10!)
[ ] Treat yourself to a clothes shopping trip
(with or without kids). Pick out the most
RIDICULOUS
outfit you can put together,
and snap a picture in the dressing room mirror
(extra points for creativity!)
[ ] Go to Target and find the strangest
(or awesomest) thing in the $1 bins that
welcome you when you first walk in.
Document with a picture.
[ ] Take a video of yourself
(and your family, if they are
willing to get involved)
enjoying an at-home Dance Party!
[ ] Take a picture of a any 90's-era CD's you own.
Also acceptable: go to a music store/Barnes and Noble, and take a picture of of your favorite 90's-era albums.
[ ] Snap a photo of yourself reading
your favorite book (or book series).
[ ] Take a photo of your kids holding a
sign saying why they are "Kid Enough."
[ ] Dress your pet up in a funny outfit.
Then see if they will let you take their
picture without a scuffle.
[ ] Bring up the
CSHM blog
on your phone/iPad/computer and take a picture next to it giving me a thumbs up!
[ ] Which room in your home is currently the messiest? Snap a picture or take a video and share it with us! (YOU ARE BRAVE!)
[ ] Take a picture of yourself somewhere in Philadelphia. OR: Take a picture wearing the emblem of any Philly sports team (I know this may be difficult for those NOT from Philly but that's what makes it a CHALLENGE)