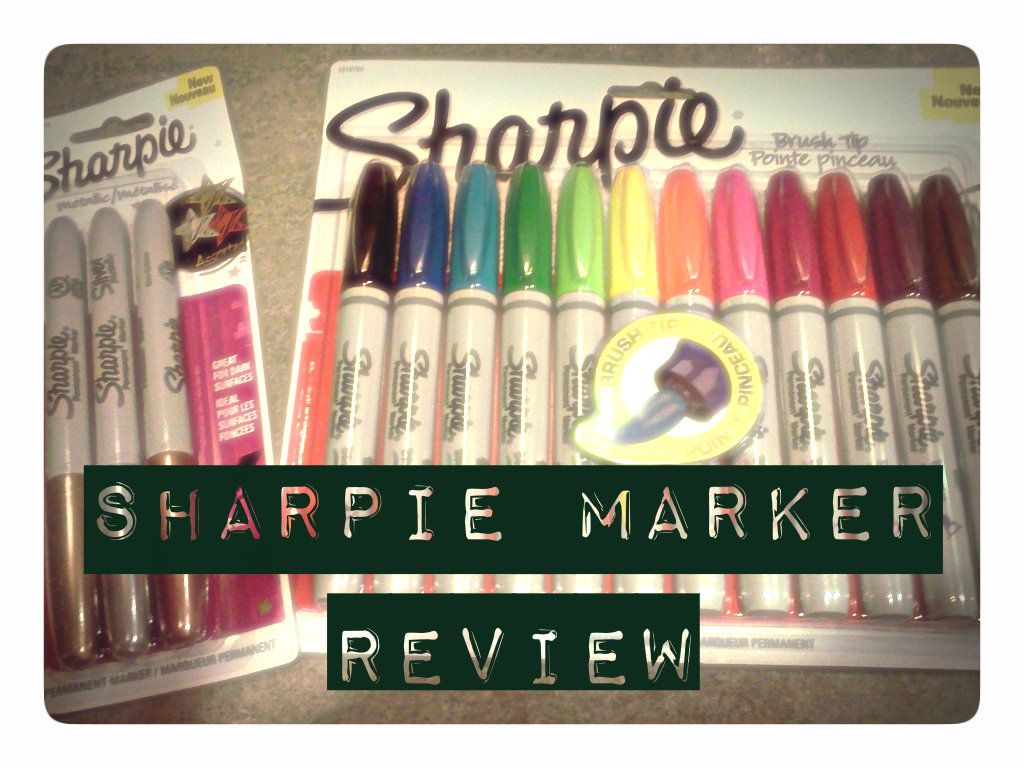 Back to School.
I can't help but be brought back to a time of the giddy anticipation for a new school year: excited for seeing friends after a long Summer, getting back into the groove of learning, school bus rides, and shiny new school supplies.
Do you remember the joy of going to the store and stocking up on new school supplies? I loved the gleam of new crayons unworn by hours of drawing. Pencils with perfectly sharp new tips. Notebooks unmarred with perfect spiral spines unlittered with ripped paper edges. And markers with fresh ink.
I'm going to be honest: it's hard to find good markers.
I've been a Sharpie girl for a long time. It comes down to this: there are "markers" and then there are MARKERS. You know what I mean. "Markers"are those flimsy writing implements that work for about 5 seconds before they stop leaking ink onto your paper and you have to crush the tip to get even a slight bit of pigment onto your page. MARKERS, on the other hand. MARKERS have staying power. MARKERS are thick, dependable and don't run out of ink. Also?
They can write on anything.
Sharpies are MARKERS, my friends.
When I was asked by the kind people of Sharpie if I'd like to review two of their new Sharpie marker products, I didn't even have to think about it. YES. Yes I would like to review them. Why? Because inadequate markers are one of the things in this world that cause me frustration. Especially when you have 2 inquisitive little girls who might happen upon said markers and write with them for hours on end, rendering them useless.
I digress.
First, I love that when my box from Sharpie arrived, there was a cute handwritten note that was decorated with Sharpie markers.
It's so literal.
Then I unearthed the stash:
Then I put them to the test.
I love the new Brush Tip markers, because it's almost like getting 2 markers in one. You have the ability to have a fine tip for writing and edging, and then a wide tip for large lines and filling in. The multi-pack I received had a nice assortment of colors, and I can see myself using them for a variety of reasons!
The Metallic Markers are just plain fun. One of the things that makes them so versatile is that you can use them on light OR dark surfaces! So many places to try them out and decorate! I'm going to hide these and use them for the holidays. I might just order red envelopes so I have an excuse to write with the silver marker!
One of my most telling tests is The Freezer Bag Test. I often freeze foods and leftovers (What? I like having a stocked freezer!) If you've ever tried writing on a freezer bag, you know that there are few markers that stand up to the test. I've used a bunch of permanent marker brands, and most don't have ink that will adhere to the surface. Others fade or brush off once they are in the freezer, leaving me with a bag of whoknowswhat.
Sharpie Metallic Markers?
Passed with flying colors.
As you are gathering your back to school supplies, definitely check out the new products Sharpie has to offer. You can see the ones I've mentioned, plus many more, on their website.
Thanks again, Sharpie!
Disclosure: I received 2 Sharpie products to review. I was not otherwise compensated. All opinions are, as always, my own. I'm all about keeping it real!