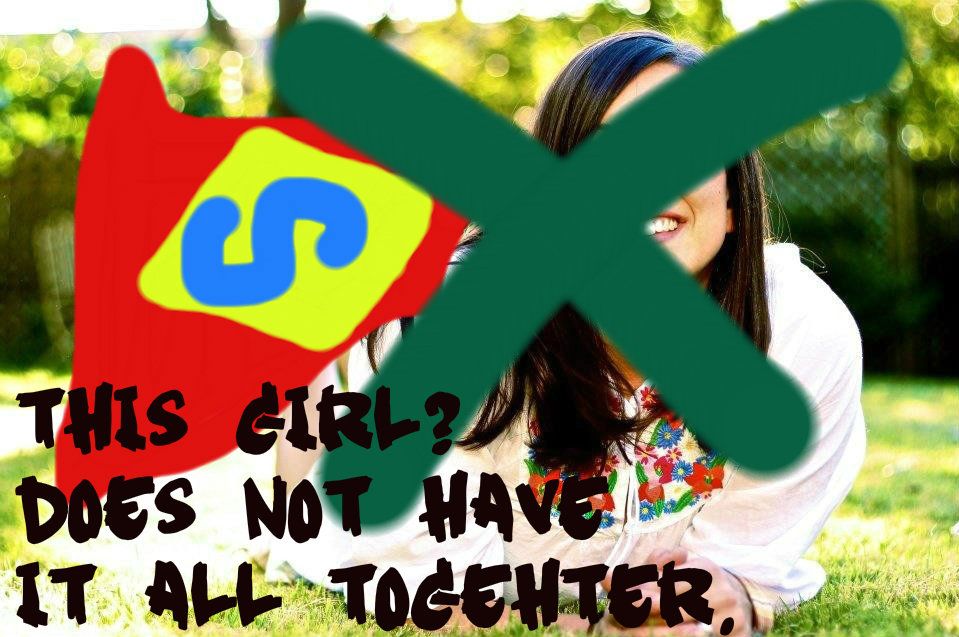 I'm going to say something revolutionary, people.
So take a seat.
Are you ready?
I don't have it all together.
Gasp! Shock!
But seriously, I am the last person on the face of this earth who could possibly qualify "having it together."
Isn't it curious, though, that we believe the lie that everyone else around us has everything together, living life on a perfect stage while you are the lone person losing your mind in the corner?
Part of my goal in starting this blog was to open conversations and engage in discussions about parenting. Sometimes, parenting is a breeze and full of a ton of joy. There are a lot of valleys, though. Difficult times that we don't feel we can share with others. Rough patches that we feel embarrassed by, because we believe that we are the only one who feels like they are drowning.
Friends, can I just take a moment and tell you? You are not the only one.
Sometimes we just need to hear that, don't we?
This morning, I saw a post by my wonderful, awesome and dearest cousin-in-law in a parenting Facebook group that we are both apart of. Her post caught my eye the moment I brought the group page up on the screen. She asked if anyone else struggled with guilt. Guilt because it seems like everyone else is living life while you, despite trying your hardest, seem to be barely managing.
At that very moment I wanted to reach through my laptop, across the ocean to wear she lives, hug her and devour an entire gallon of ice cream with her while watching every episode of Dawson's Creek.
Because yes.
YES.
Yes I feel the guilt. Yes I feel like I am the only dang person in the world who can't get her act together. Yes I feel like at many moments of the day I am failing someone: my kids, my husband, my family, my friends, my self.
This parenting stuff? So not for the faint of heart.
Don't get me wrong. I love my children deeply. I find amazing joy, enlightenment and challenge by being a mother. But I also find struggle. My experience of parenthood is shaped by being a stay-at-home Mom. But I believe all mother's can relate to The Struggle.
I struggle with the monotony. For me, days often look the same. I wake at the same time (or earlier. But always too early), faced with the multitude of responsibilities of tending children, maintaining the house, running errands, making sure my family is fed, while also trying to be a social and intelligent 30-year old woman with friends, dreams and desires. Sometimes I forget what day it is because Mondaytuesdaywednesdaythursdayfridaysaturdaysunday sometimes look eerily similar.
I struggle with identity. Oh do I struggle with this! Going from independent working woman to a homemaker is quite a transition. And while this is another post all together, I embrace the word homemaker. While some may find it belittling, I find it empowering. It all depends on how you choose to make home. That said, I am much more than a homemaker. And I resist the notion of being a housewife. I do more than mother. I am good for more than "this." I contribute to society. I have thoughts, feelings, beliefs and opinions. Yet, I find myself wondering, "What am I doing with my life?"
And I struggle that somehow, after 4 years of motherhood, I still don't have it all together.
You'd think by now I would have figured out how to unload the dishwasher without children climbing on the open door and taking sharp knives from the utensil holder.
Nope.
You'd think after four years, I'd have worked out a system shower on a regular (i.e.: every other day) basis.
Ha.
One might imagine that after four years, I could manage to find time to grocery shop sans kids so that there are not two children and one adult crying in the supermarket from the stress of it all.
Uh uh.
Nope. After four years, I still struggle. And yet, I manage. Because I take it a day at a time and try to learn. I overcome some struggles only to be introduced with new ones. I try to find the humor in situations. I've learned to make time for nurturing my needs, intellectually and socially (and stopped believing the lie that making time for myself was selfish. Spoiler alert: it's not).
Such is parenthood.
So today? Today I don't not have it all together.
Tomorrow isn't looking good either.
But who knows? Maybe Thursday will be my lucky day.
Friends? You are not alone.
I hope I'm not either.