I've really enjoyed taking time to teach Chica her way around the kitchen. It has been good for me to learn to let loose and know that it's okay if things get a bit messy (I can clean it later!). It has also been a good practice for Chica's ::Ahem:: listening skills. Being able to fend for oneself is a survival skill, and doggonit, I'm going to do my best to equip my kids to thrive in a kitchen setting.
Also?
People love people who can cook.
And also also?
I love the rare one-on-one time I get with Chica while we cook and bake.
In our last Baking with Kids post, Chica and I made Pie Dough Cookies with some leftover dough from a blueberry pie I made. Neither pie nor cookie lasted very long. I was scanning my recipes for some good kid-friendly concoctions, when one dessert stuck out in particular.
DIRT.
What kid doesn't love dirt?! Bug loves dirt. In that, she loves to eat it. By the handful. But we're not talking about that kind of dirt. I mean the yummy pudding-oreo-gummyworm goodness kind of Dirt.
Now, calling this "Baking with Kids" is a stretch, as there is no baking involved. But it is a simple recipe that kids love, so we're going to go with it. I received the recipe for Dirt from one of my dearest friends, Brie, years ago. She makes it all the time, and has adjusted it to be gluten-free for her Dad.
Today, I made it with Chica.
I used fat-free, sugar free ingredients where I could. And for the chocolate sandwich cookies, I opted for the Late July brand with Green Tea. I like that Late July is organic and the ingredient list is short understandable (i.e.: no weird additives or preservatives like monotholicisoirates. Yup - I just made that word up). my only wish is that I could find a healthy alternative to Cool Whip (or the generic brand I used), since there is partially hydrogenated oil, which I really try to avoid. Otherwise, I feel good about the substitutions I made.
So, this dessert is practically health food, people.
This recipe is great to do with kids because there are few ingredients, and even young ones can do most of the steps. There is no heat element or cutting involved, so I deem it safe as well.
Here is the process, and the recipe is at the end.
Readers, meet the ingredients. Ingredients, meet my fabulous readers.
Chica being our culinary Vanna White.
First step, I measured 4 cups of milk for the 2 packets of pudding mix.
I opted to do the pouring because, well, I didn't want to encounter whatever
spillage would have ensued otherwise.
After I ripped the packages open, Chica emptied the pudding into the milk...
....and used her super-strength to whip that pudding into shape.
The whipped topping was still a little frozen, so I halved it and put it into the bowl.
Chica kept on stirring like a champ.
I opened the box of cookies and emptied them into a large
zip-top bag.
I was careful to get as much air out as possible and seal it well.
Chica and I had to sample the cookies as well.
All good chefs do.
Next, I gave Chica a rolling pin to go to town on those cookies....
....which she like it was nobody's business.
Which it really isn't, I guess.
We added the smashed cookies to the pudding mixture
And Chica stirred like a champ.
After sampling our product, we decided it needed some more chocolate
(since I opted to use 2 vanilla pudding packets instead of 1 vanilla and 1 chocolate).
So we added 1 TBS of hot cocoa mix.
Just for kicks.
We are pretty happy with our finished product,
and can't wait to eat it for dessert tonight!
Now for the official recipe!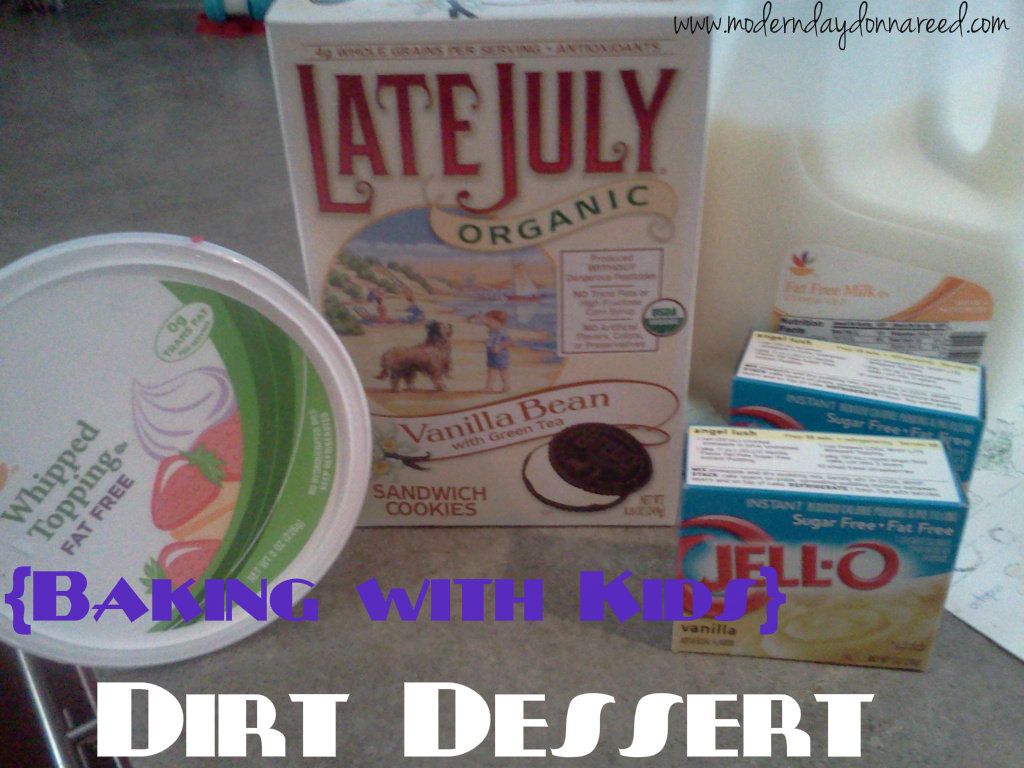 2 small packages of instant pudding (Brie recommends 1 vanilla and 1 chocolate package of pudding)
Milk (amount called for according to the package directions)
1 package of chocolate sandwich cookies (such as Oreo or Late July)
1/2 tub of whipped topping (such as Cool Whip)

1 TBS hot cocoa mix (OPTIONAL)

1) Prepare pudding with milk as package directs.


2) Once pudding is whipped, add 1/2 tub of whipped topping and hot cocoa mix (if you adding it).


3) While pudding is combining with whipped topping, empty package of chocolate sandwich cookies into Ziplock bag. Seal bag, and crush cookies.


4) Add 1/2 of the mashed cookies to the pudding mixture.


5) Pour pudding mixture into a 13x9-inch baking dish. Garnish with remaining cookie crumbles


6) Store in refrigerator until it is set. Enjoy!
Adding the hot cocoa mix is totally optional - and great if you only have vanilla pudding on hand and want to add a little chocolate. This recipe is perfect to great creative with as well - try swapping out other fun flavors like mint, butterscotch, lemon or pistachio for bold new flavors!
How do you encourage your kids to get involved in the kitchen? Share your tips and kid-friendly recipes (or come guest post one of your next kitchen experiences here!)
moderndaydonnareed [at] gmail [dot] com