If you've been by the Facebook Page recently, you know I've been into iced coffee. And by "into" I mean "obsessed." Somehow, up until a few weeks ago, I had been completely ignorant to the existence of iced coffee.

Ok, it's not like I wasn't aware of the existence of iced coffee. I was just unaware of the splendor and gloriousness of iced coffee.

Recently, I've been making my own iced coffee. And don't get me wrong, it's heavenly. But then I found out that International Delight has made my life even easier by doing all the work for me. They've created the International Delights Iced Coffee line.
Oh yes. You can now head to the grocery store and pick up a half gallon of pre-made iced coffee goodness. They have 3 flavors: Original, Vanilla and Mocha.
(Cue salivation)
Apart from slurping it up from a cup, iced coffee mixes also make fantabulous ingredients in things like milkshakes, marinades and, yes, even baked goods. Since I love doctoring up boxed cake mixes, I conjured up yet another tasty addition to your next party:
ICED COFFEE CAKE.
(Please, hold all applause until the end of the post)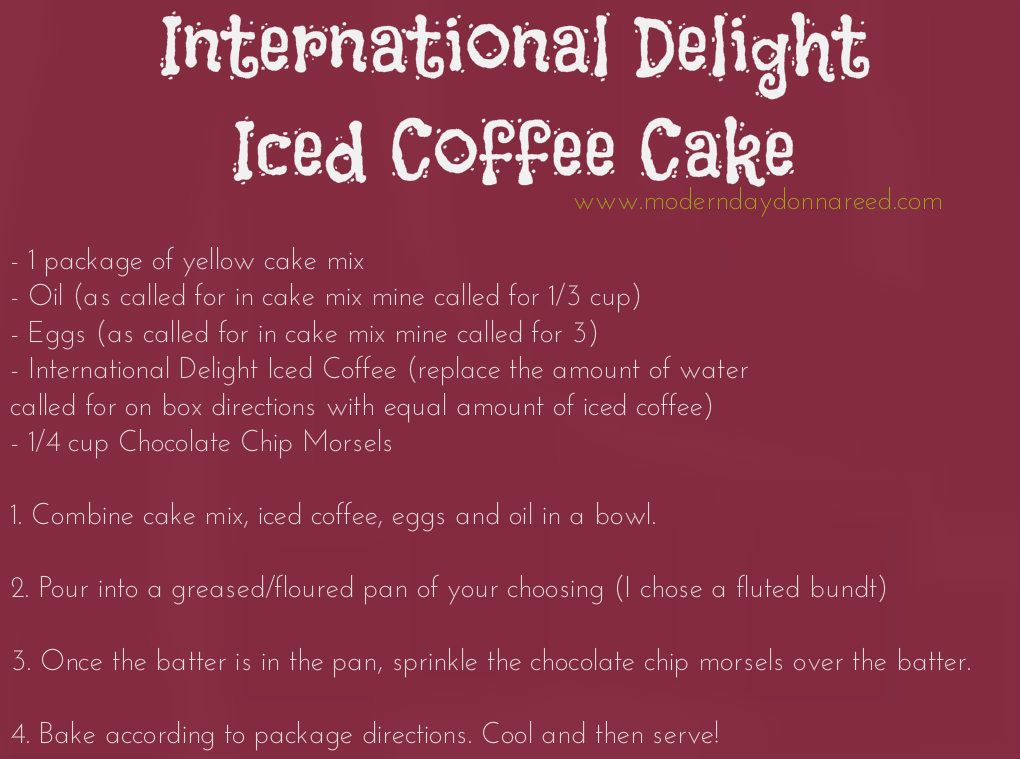 Click on the recipe card to enlarge or download/print
It smells like heaven while it's baking, and then it is delectable upon first bite. Don't take my word. Go and make it yourself!
International Delight is celebrating summer by giving away 1,000 half gallons of Iced Coffee each day! Grab your free drinks here!
Now, get
your
celebration on! Enter to win $500 toward your ideal Summer Party by completing these two simple steps:

1. Pin my Iced Coffee Recipe photo on Pinterest.
2. Come back! In the comment field below, tell me you pinned and share your favorite taste of summer!
This is a sponsored conversation written by me on behalf of International Delight. The opinions and text are all mine. International Delight Iced Coffee Sweepstakes and Rules.