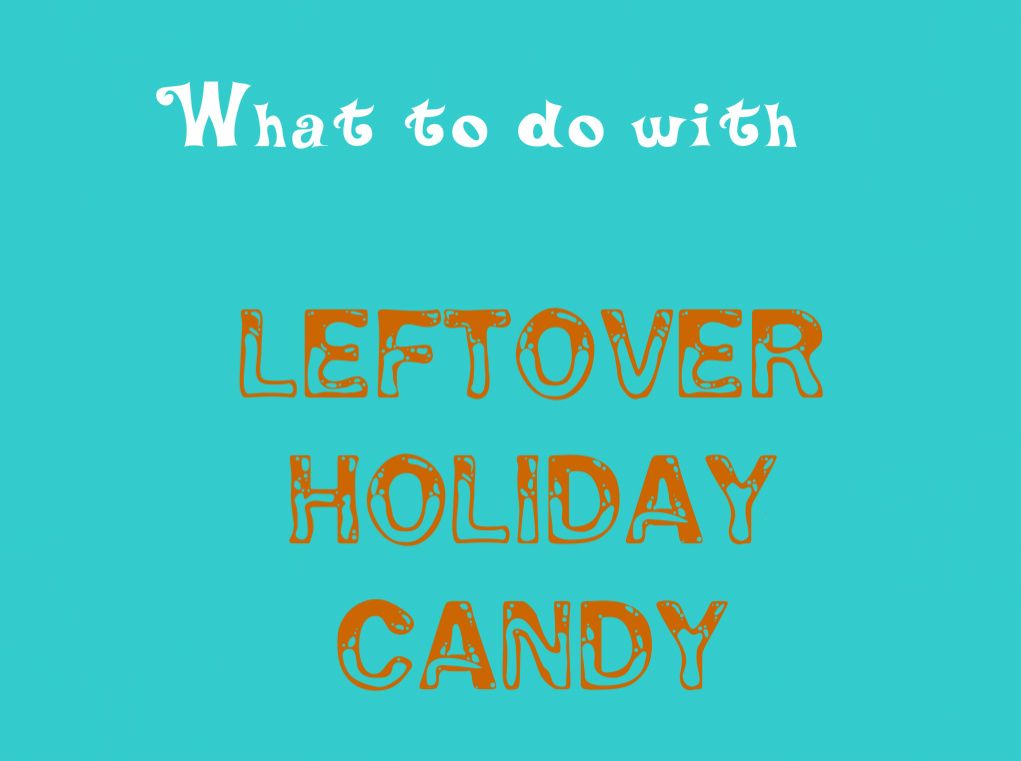 Now, I love candy as much as the next person. I have a bit of a (read: monster) sweet tooth, so it's not that I mind having candy around the house. It's just that the sinister temptation calls to me day and night until I give in. 5 candy bars later, and I'm rolling around in a sugar coma wondering why I didn't stop at just one.
Or three, for that matter.
As a parent, I also have the health of my family in mind. We're not the healthiest family on the block, but we do our best to read labels, consume nutritious foods and be mindful of what we are putting into our bodies. I ate like crap as a kid. Doritos were always in our pantry. Hi-C coursed through my veins. And I cannot remember one night of my childhood that I did not down some kind of high fructose corn syrup-laden, trans-fat ridden dessert.
I want more for my kids.
The holidays are an unavoidable non-stop Sweet For All. Whether it's Halloween, Christmas, Valentine's Day, Easter, Arbor Day or Tuesday, candy seems to pour in from every crevice of the house. Hubby and I opt to give non-candy treats (small toys, books, and maybe MAYBE packets of fruit snacks) so our kids aren't the leaders of the Zombie Sugar Apocolypse. But between parties, celebrations, and family gifts, we end up with a truckload of the sweet stuff. We ration it to our kids, and at times, we've even thrown it away (don't judge us!). Otherwise, I'm stuffing my face every night after the kids are asleep.
And not a small waistline does that make.
Throwing away is wasteful. Hubby and I eating the remaining goodies is just not an option. So after this weekend full of Easter goodies, I decided to divvy up the candy and do something creative with a good portion of the loot. The sugar candy isn't good for much more than eating (and rotting teeth). The chocolate stash, though, can be used to brighten lots of baked goods and desserts. Luckily, chocolate freezes well! This is a great way to lessen the current sugar intake, and spice up your baking year round.
Here is what I did:
One
Take stock of your loot.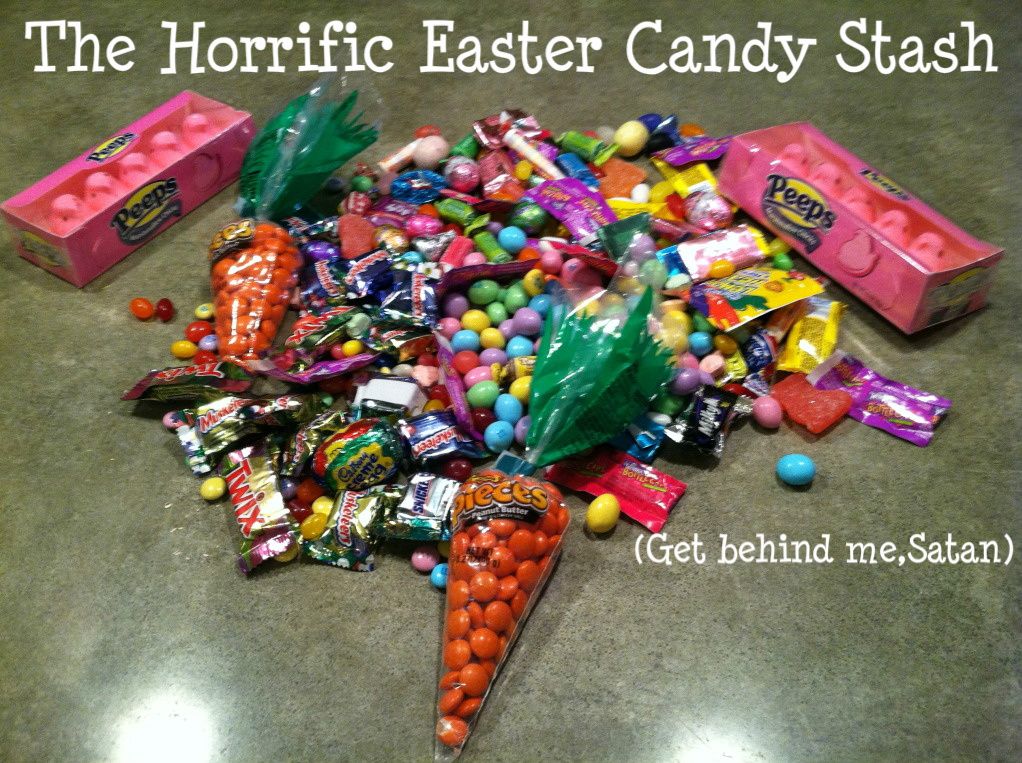 Two
Divide the candy into Team Sugar and Team Chocolate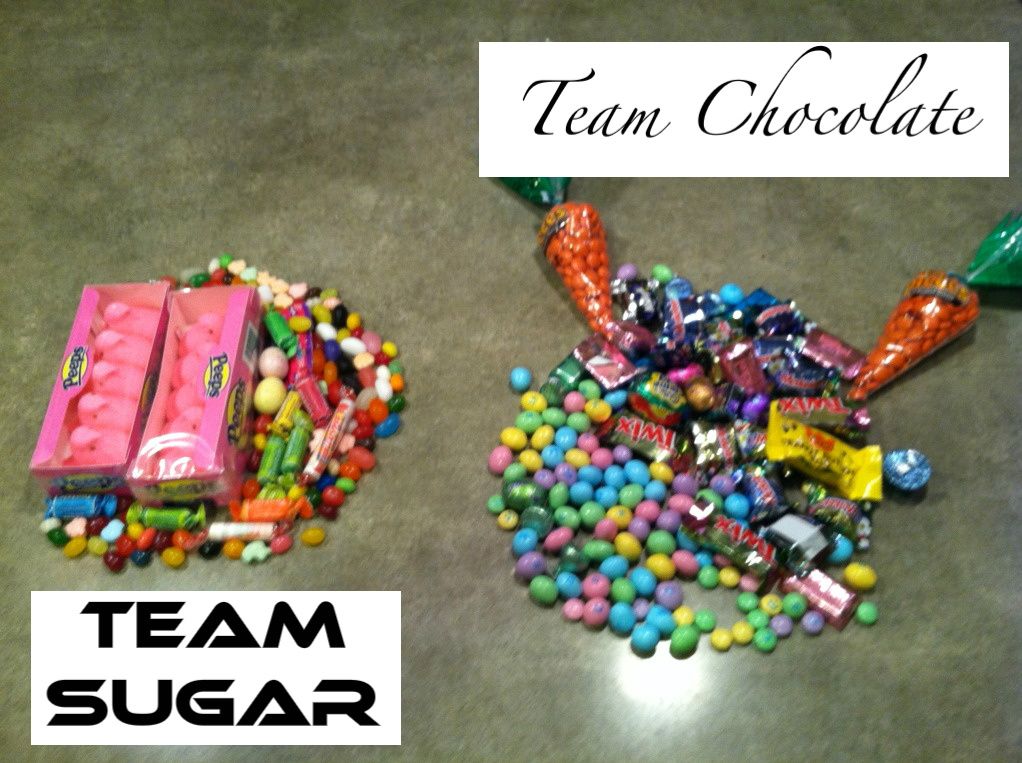 Three
Get rid of the Sugar Candy. Because Sugar candy was never meant to be more than just candy (remember Nerds Cereal? ::shudder::)
Four
Split the Chocolate Candy into several different tasty categories. I went with Hershey (consisting of mini Hershey bars, mini Special Dark, mini Krackle Bars and a few Hershey Kisses), Candy Bars (Twix, 3 Musketeers, Snickers, Milky Way), and M&M's (Peanut and Plain). For purposes not to be shared here (ahem), I decided to put the peanut butter section aside. Don't judge me.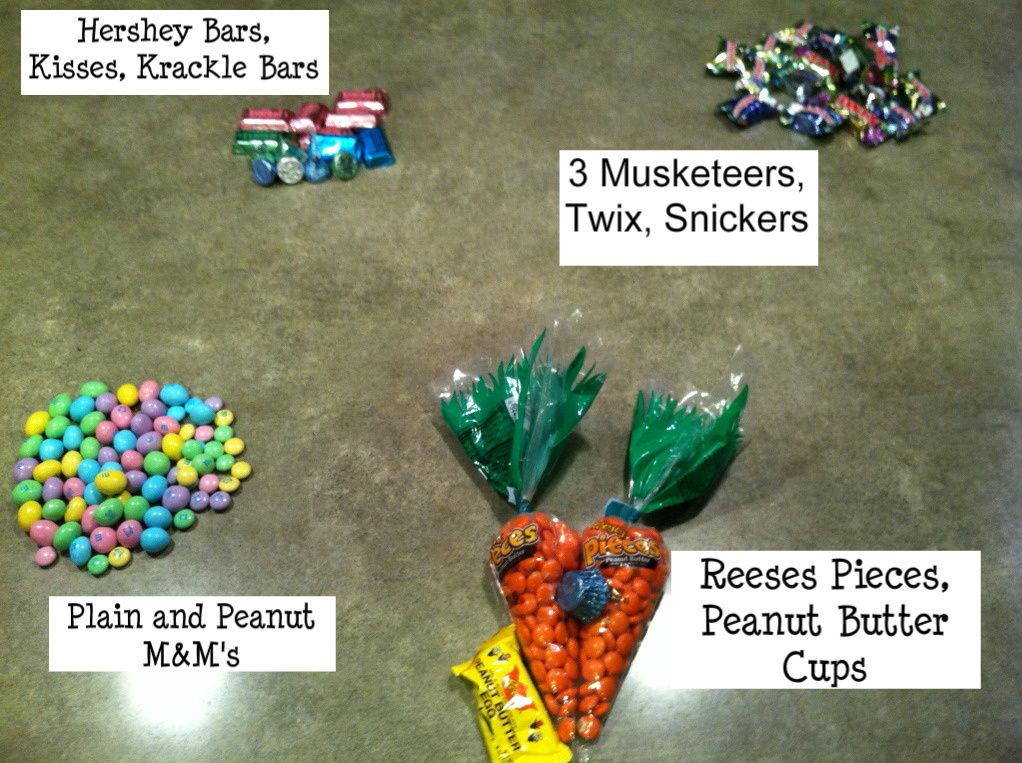 Five
Remove any paper and give each group a rough chop. For the M&M's, I used a blender to chop them (a food processor would work too).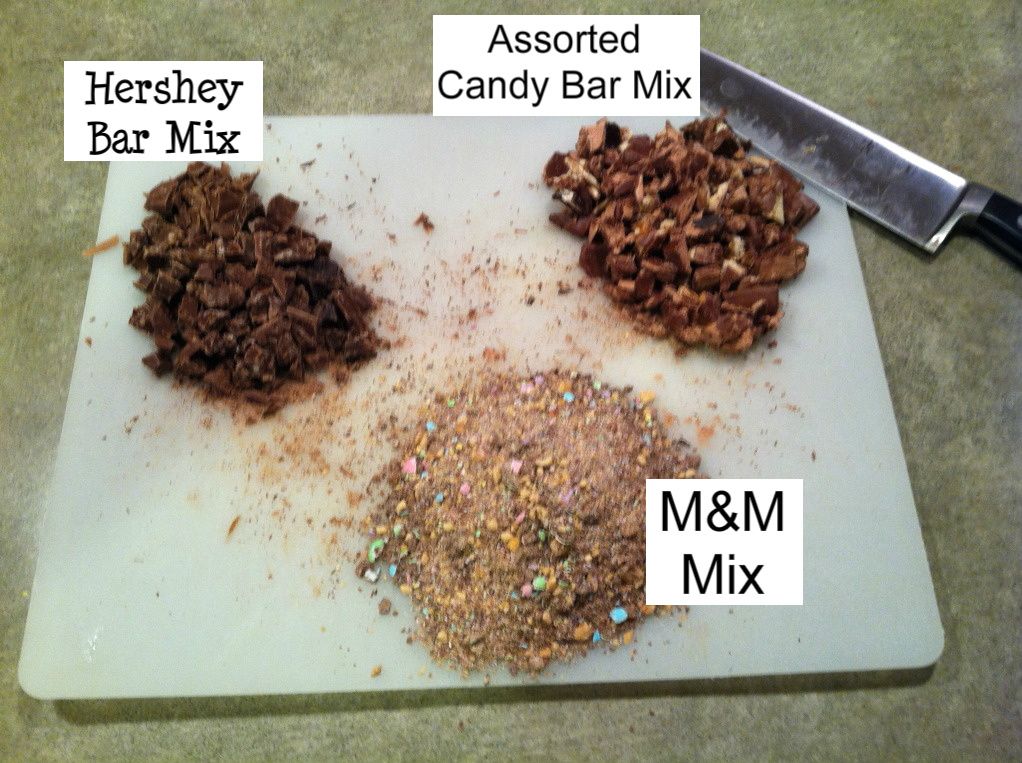 Six
Scoop the chopped chocolate into labeled freezer bags. Seal and pop into the freezer.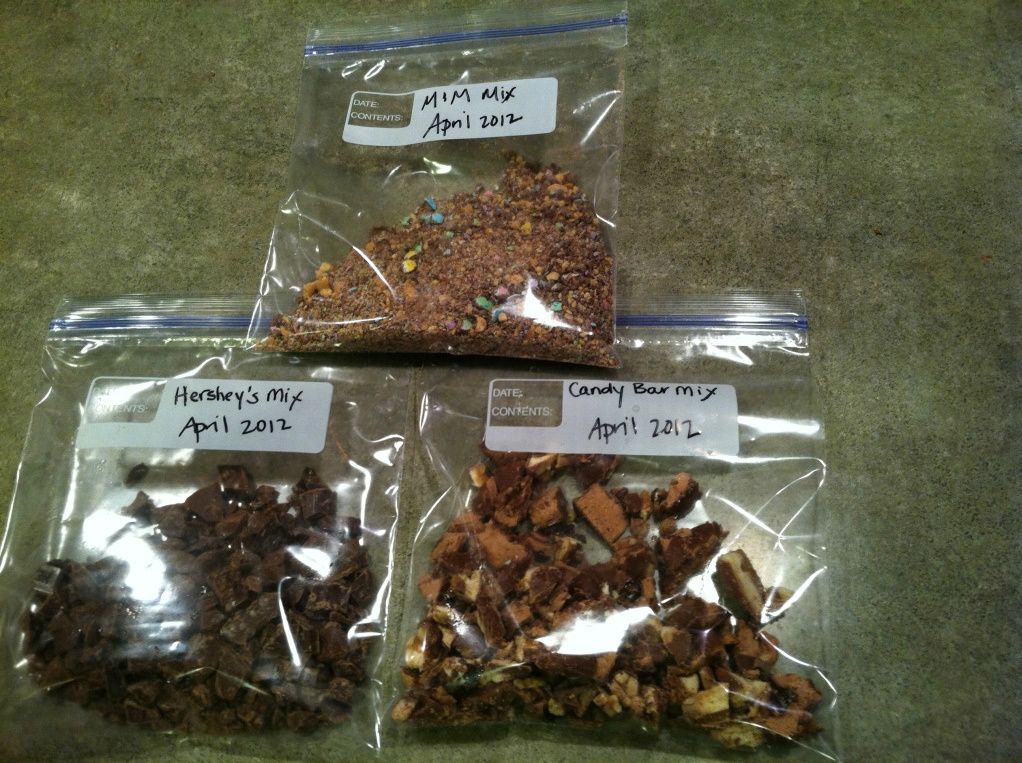 Seven
Get creative! Now that you have a nice stash of chopped chocolate in the freezer, the sky is the limit! Just pull from the freezer and add to your favorite baked goods, or create something totally new! I apparently really like to use lots of exclamation points!
Here are a few ideas to get you started:
Add 1-2 cups of chopped candy into

brownie batter
Throw 1 cup of chopped candy into

cookie dough

instead of nuts
Liven up

homemade milkshakes

: Add 1/2 cup of chopped candy to 1 cup of ice cream and 1/2 cup of milk. Blend until frothy
Create

DIY Blizzards

(a la Dairy Queen): Add 1/2 cup of chopped candy to 1-1/2 cups of softened ice cream. Using a hand blender, mix until combined.
Surprise Cake:

Take boxed cake mix. Bake according to directions for 2 layer round cake. Place first layer on a plate. Add a layer of candy (defrosted). Place second layer over candy layer. Frost. Sprinkle extra candy on top.
Mix candy into

frosting

when decorating cakes
No waste. Less sugar for your kids. And as your culinary creative juices start flowing, people will be begging you to bring your fun baked goods to the next party. All the cool kids are doing it.
I'd love to know what YOU would do with the chopped candy in your freezer.
How creative can you get in the kitchen?
Share your ideas in the comments below or email me your best creations!