Sometimes I get it in my head that every other parent in the world has it all together. I believe the lies that everyone else has abundant patience, a smile on their face at all times, and never find themselves frustrated with their children. At playgroups, I sometimes feel like the only one out of control of my children, the only one raising my voice, the only one disciplining all wrong. Visiting other homes, I become quite positive my house is the messiest house in all of creation, and that other homes are harmonious and tidy.
I believe the lies. And yes, they are lies.
Sometimes when we get it in our heads that we are the exception, rather than the rule, it is good to hear from other moms that they don't have it all together. That they struggle, just like you. This week, I asked my good Philadelphia Social Media Mom friends to get into the confessional booth and share their Mommy Struggles. Let me tell you, I no longer feel alone!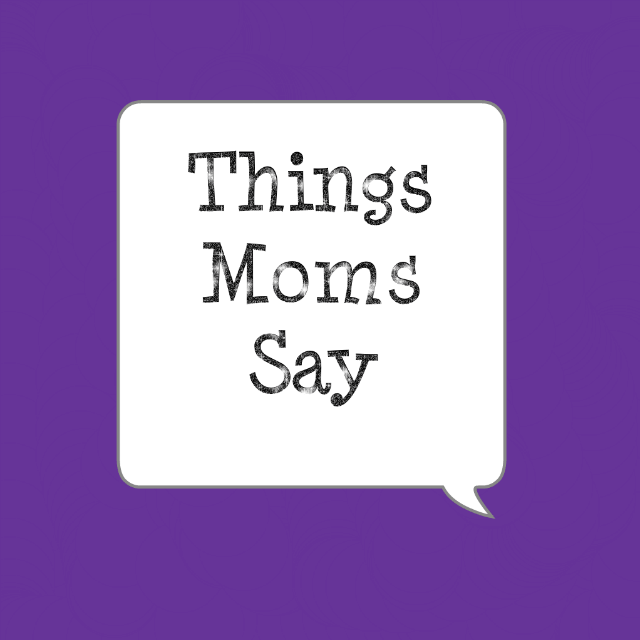 What is one of the biggest struggles you have as a Mom?


"Realizing that's not my only title. I have a hard time finding time for myself. A simple manicure sends me into Mommy Guilt Land because I know there are other things I could be doing" - Melinda from Look What Mom Found
"I struggle with my temper. The boys know exactly how to push my buttons and get me screaming like a banshee. I swear, one of these days I'm going to have a stroke while yelling at them" - Mychal from My Life in Mommyland

"I have also hard time not feeling guilty that I have to work all day and someone else is hugging, kissing and teaching my children and not me" - Sarah from Finnegan and the Hughes


"It's not so much the 'momming' part as it is the mess from having 4 kids! I am constantly coming up with new ways to get them involved and keep the messes to a minimum but it still piles up" - Kelly from The Centsible Life


"PATIENCE! People think that because I have 5 kids, I have patience. I learned and I am still learning patience" - Barb from A Life in Balance


"My biggest worry is my son will see me, my work at building a business, and my work ethic/attitude and while it provides a strong woman role model for him, and I hope he'll not be intimidated by strong women in his life...What will he become - the guy that instigates [the strong woman]? Or the guy that is more engaged and cooperative?" - Chrissie from Piccadilly Arts


"I love being a wahm/sahm mom and am so glad I can do so. So it makes me squirmy sometimes when other moms say stuff like "I am NOT a mom blogger" or "I am NOT just a sahm" and stuff like that. I put a tremendous amount of value in being a mom. The title of mom is the proudest title I carry, so I just don't understand when some get irritated when those titles are used on them. Being a good mom is not easy work. I have enough confidence that when someone refers to me as a mom blogger or mommy blogger, that I don't really care. I can write. My work speaks for itself, you like it or you don't. If you're going to diss me because I'm a mom, I don't want to work with you anyway" - Lisa from A Day In Our Shoes


"I struggle with asking for help!" - Marissa from Land of Once Upon a Time


"I struggle with feeling guilty for loving to work as much as I love being a Mom" - Dresden from Creating Motherhood


" I struggle with leaving my daughter with people so I can go work. I know it's necessary and I can't avoid it, but I feel guilty that I don't get enough time with her. Now we're adding another kid into the mix and I feel even worse. I wish there was some way I could work from home, but there isn't!" - Paola from Modestly Chic Style


"Time management for myself. I made a pact with myself in January that I would get a shower every morning. It was just that one little thing for myself but it started my day with a smile rather than as a crazed lunatic. It's only 1030 minutes, but it makes such a difference!" - Stephanie from Mamma Bear's World


"I struggle with finding friends. For myself and my son. Working and staying at home, we are cooped up a lot. And although I'm a homebody, sometimes I feel it's too much" - Nichole from Nichole Ann


"I struggle with patience. . .I do not have the patience I believe I should have as a mom" - Hillary from My Scraps


"Work/family balance-sometimes I'm doing so much, I wonder if I'm doing any of it well!" - Jessica from Delaware County Moms


"I struggle with finding my place in a semi-new city (though it's not so new anymore). Sometimes it's tough to be living in an area where so many people grew up here and just already have their lifelong friends" - Alissa from Fun Finds For Families


"Being sick and not being able to pick my son up! It is especially hard when he is hurt or excited and that is all I want to do" - Randi from SAHM Crazy Life


"I struggle with saying no to activities. Not to my kids- I have no problem saying no to them (haha)! I overbook myself with school parties, sports activities, birthday parties, etc. I want to be Supermom so badly and don't do well with self-failure. I need to work on saying no more often" - Cindy from Whatever Works


"I tend to overextend myself. I try to do it all for everyone and burn myself out. I also struggle with taking "me" time. When I do get time to myself I usually will use it to catch up on work" - Jen from Lehigh Valley Momma


"I struggle with finding time to do all of the things I HAVE to do as a mom (i.e. bathe kids, feed kids, take them to practice, homework, etc) with all of the extra things we WANT to do as moms (I.e. taking the kids to the park, playing silly games, making the toilet water green for St. Paddy's Day, etc.) I want my kids to have great memories of their childhood- not just to survive it!" - Michelle from Mommy Confessions
This is why it is so good to have community: to build relationships, to be honest, to find support and to know beyond a shadow of a doubt that you are not alone. We all struggle, and just saying it out loud helps you to embrace who you are and grow to be an even better parent.


What about you: