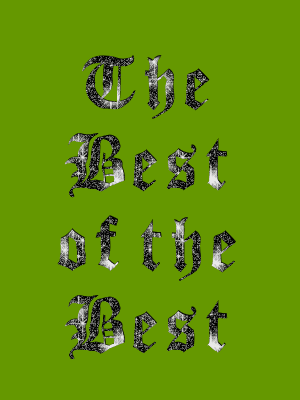 It's that time of year again: When, after a long summer of crappy filler reality shows and overplayed reruns, networks gear up with the start of NEW EPISODES OF ALL YOUR FAVORITE TV SHOWS.
I seriously cannot handle it.
Or contain my excitement.
And possibly my urinary continence.
I'm not a couch potato by any stretch of the imagination. But I, like many inhabitants of this world, love getting lost in the 30 minutes of a humorous sitcom family's life or the drama of life as a hospital employee. Perhaps it is just a nice escape after a long day, week, month, year. So I make no apologies that I have had all of my series' premieres marked on my calendar for the last month or so.
Don't we all?
Everyone has different tastes in television, so I look forward to reading and sharing the Reader's Choice Best of the Best: TV Premieres. I'm sure there are many that I am totally forgetting. I am also absolutely open to being hooked onto a new show (especially if it is on Monday or Tuesday nights, which, at this point, are wide open as there are no shows that interest me on these nights.)
For today's topic, I am qualifying both shows I am already a fan of and new shows that I am interested in checking out.
Here are my picks below:
TV Season Premieres
This is a new show coming to NBC. I've been seeing commercials for it all the time. Why does this make the list? Maybe because it's about a family hilariously struggling through the transition to parenthood (been there, done that, have the t-shirt). I can relate to that, and I am sure there will be many moments of "OH MAN THAT TOTALLY HAPPENED TO ME!"
But really, it's because I absolutely LOVE LOVE LOVE Will Arnett. My passion for him started when I fell into an obsession with Arrested Development (hands down, the greatest TV show to ever grace the airwaves), where he played the misguided magician brother, GOB Bluth. In real life, Will is married to Amy Poehler. Whom I also love. And Christina Applegate and Maya Rudolph was awesome,. So it's like a trifecta of awesomeness on steroids. As you can tell, I have unreasonably high hopes for this show.
Series PREVIEW: Wednesday, September 14, 10pm
Series PREMIERE: Wednesday, September 21, 8pm (regular time slot)
6. Psych
I became hooked on this show part way through the first season. It's on the USA network, so I think it is not as well known, but it seems to have a cult following. It is hil-ar-ious. The hijinks of faux-detectives/psychics Burton "Gus" Guster and Shawn Spencer are priceless. I love that I laugh during every episode, and there are inside jokes that carry through the season (on and off the screen) that make faithful viewers feel like part of the Psych family.
Series Premiere: Wednesday, October 12, 10pm
5. The Good Wife
While not initially "my" kind of show, I started watching The Good Wife from the first episode in September 2009. The shows are well-written, often leaving me biting my nails until the next week's episode. Julianna Margulies is a powerful actress. I admire her character, Alicia, for being driven, yet dedicated to family and ethics. She's the hero and lives up to the title. The other characters are written to be easily hated or loved, and often throw you for a loop as to which you should be feeling at any given time. I appreciate the complexity of the court cases, some of which mirror current cases in the culture. I am also slightly hooked on what will happen between Alicia and Will. And Cary and Peter. Or Alicia and Kalinda, for the matter. Squeeee!
Series Premiere: Sunday, September 25, 9pm (new day and time)
4. Modern Family
I missed out on getting into this show from the beginning. But thanks to alert friends, Rob and Jen (who have a great taste in humor quite similar to our own), we were directed to the show mid-way through Season 1. HOOKED. This show is so funny, yet sensitive, yet truthful, yet blashphemous - all the qualities of today's modern family. I can't begin to share how hilarious and creative every episode is, or how easy it is to fall in love with EVERY CHARACTER. So it's best you just start watching.
Series Premiere: Wednesday, September 21, 9pm
3. Grey's Anatomy
Does this show even need an explanation?!? Many fans have come and gone, with the upheaval of characters (like losing Izzie and George, the shooting at Seattle Grace, off again-on again romances), but the writing remains superb. I am sad to admit I rolled into being a Grey's fan a little over a year ago: after catching onto reruns on Lifetime during Little Chica's naps, I was hooked and subsequently caught up for Season 7. I'm on edge, after being left with a very tense season closer. So Grey's needs to start up again so we can have some resolution!
Series Premiere: Thursday, September 22, 9pm
2. Parks and Recreation
Although I felt it had a slow start, the momentum has been building into an amazing show. I have found the some episodes are less funny than others (as is the case with many sitcoms), but every other week or so, there is an episode that hits it out of the park. The "Flu Season"episode had me in stitches. I COULD. NOT. STOP. LAUGHING. And Ron Swanson has to be the greatest character ever created (see the Ron Swanson Pyramid of Greatness, if you need any convincing). So many great actors and actresses. Can't wait to see what happens in Pawnee, Indiana this year, as well as the romance between Leslie and Ben. Woot!
Series Premiere: Thursday, September 22, 8:30pm
1. Community
I will admit: I despised this show when it first aired. I faithfully watched the first episode, and then the second, hoping that it would live up to my expectations. It seemed to fall short, and I avoided it for some time. Something drew me back: perhaps time, growth, maturity. And slowly but surely, I was sucked in. Community is, hands down, my favorite show as of late on television. The show is just so...smart. So well written. You often have to have a knowledge of movies or television shows to appreciate the inside jokes, the complexity, the allusions. The cast is also one of my favorite aspects: great actors/actresses. They seem as connected off-screen as they do on. I follow them all on Twitter (does that make me lame?) - and I love how they are always supporting one another's endeavors. I secretly wish I could be friends with them all. Or, at least apart of the study group, so I could partake in the hilarious adventures that ensue. If you haven't caught wind of this show, there is time to catch up on past seasons. Give this season a chance - I think you'll be pleasantly surprised. Chang you, very much.
Series Primere: Thursday, September 22, 8pm
There you have it: Steph's Best of the Best 2011 Fall TV Season Premieres.
Now I need YOU to weigh in!
What are is on your
Top 5 List for the
2011 Fall TV Season Premieres?
What shows am I missing? Give me your best summary for each show you love, and why it is a MUST-WATCH! Or, let me know which new shows are airing this Fall that you can't wait to see.
Reader's Choice will be posted later this week! So leave a comment below with your List!