This Summer, I am embarking on a journey. Almost 3 years ago, I gave birth to my first daughter, Little Chica. I gained weight and lost it again. 6 months ago, my second daughter, Bitty Bug, came into the world. I gained weight and...it's kind of hanging out there.
Being healthy, though, is more than just a number on a scale. It's a mindset. It's a lifestyle. I don't want to just work my butt off (literally) to get down to a number, but not have really changed what's important:
my life
. I have 2 little girls to be an example to. Women have a lot to wade through in this world where skinny is supreme, eating disorders run rampant and the media plasters unhealthy images for all to see. I want to be a positive healthy role model to my children, not the Mom who yo-yo diets or just gives up all together. They will learn from me what it means to have a positive self-esteem and a healthy outlook on eating.
So I'd better get busy living!
This journey has several parts, and
I'll be chronicling it all along the way
. First, I'm aiming to change the way I look at food. Notice I didn't say "go on a diet." But, to make changes in the way I grocery shop, cook and feed my family. I'll be posting "Healthified Recipes" each week - some of them are already on the blog from years ago, and I will be sure to repost them accordingly. I'll also be searching for new healthy recipes to try and to share (you know the drill: if you have something good,
please email me
!)
Second, I'll be working on becoming more active. Not long ago, it came to my attention that I live in a town that houses the
YMCA with the #1 Member Experience in the country
! What?!? So when I was given the opportunity to check it out over the course of 3 months to aide me in my Journey to Healtified, I jumped at the chance!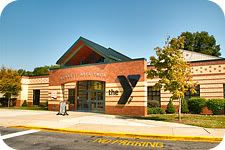 I'll be sharing with you my weekly workouts, my weekly
Kennett Area YMCA
experiences, as well as the music that is keeping my heart rate up.
Should be good!
I'd love to have some partners in this. So, I ask you:
Will you join me in my Journey to be Healthified?
What are your goals? How are you going to get there?
Week 1 post will be up by the end of the week. If you are going to
join me
on this journey, let me
know!
Leave a comment
, and
check in each week
with the Healthified posts. I know when you leave your comments sharing your journey it will keep
me
inspired!
Here's to Healthified!
[Disclosure: the Kennett Area YMCA is providing me with a complimentary 3-month membership]