I've mentioned my friend, Jen, a few times here on the blog. Jen is a long-time gal pal. We met in college, and both led Young Life together. We lived together in a cute little apartment my senior year. And I take credit for single-handedly setting her up with my friend, Rob, to whom she has been happily married for just about 5 years (they might not agree, but I will still take the credit). We are now both stay-at-home moms, and our kids are good friends (they are still learning to share, which was evidenced during our time together today - a good bit of, "SHARE!" being sternly voiced from us moms).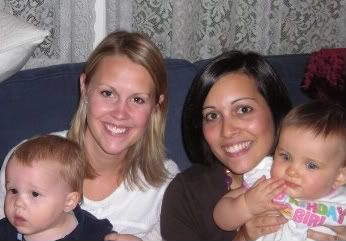 (Jen and I with our kiddos at Little Chica's first birthday party last summer.
It was hot that day. And I was, like, 10 lbs heavier than I am now. Jen, as always, was beautiful)
Anyway - Jen has impeccable taste when it comes to interior design. Seriously. If I could steal her house, I would. You can see some of her awesome design prowess on her blog: The Inspired Decorator.
One thing you will find when you read Jen's blog is that she LOVES Etsy. Loves. It. She does an Etsy post every Friday. And TODAY she is hosting her first GIVEAWAY!
If you want the chance to win a fun print to hang in your home via Etsy (via Jen), head over to
Jen's Giveaway Post
and leave a comment to enter!
Giveaway runs until Tuesday, 3/23.
I'll post a reminder next week as well!
Happy Winning! And Happy Weekend!