I know, I know.
It's not Autumn yet.
But people, I feel it in my bones.
Autumn is coming.
In a time not far from now, the air will chill, the leaves will turn vibrant colors, and my most favorite time of the entire year will be upon us. A time of hot apple cider, harvest parties, snuggling under blankets at night, football games, and PUMPKINS.
No, not just decorating with pumpkins or picking pumpkins or coloring pumpkin crafts with your kids. That's all fine and well, but friends? I'm talking about BAKING WITH PUMPKIN.
Pumpkin soup, homemade pumpkin puree, pumpkin pie.
And yes, lovelies.
Pumpkin Cookies.
I know I just posted a recipe for Healthy Crustless Pumpkin Pie. But I had a 32-oz can of pumpkin puree, so I had to do something with the leftover puree, right? Why not bake the most scrumptious Pumpkin Chocolate Chip Cookies ever?
I've made pumpkin cookies in the past, and I will tell you it is not as simple as just throwing a can of pumpkin puree into a batch of chocolate chip cookies. What you will end up with is a mess that, while wonderfully fragrant, is not ascetically pleasing and possibly inedible. I've fiddled with several recipes, adjusting the oil/fat ratio with flour. And after some experimental batches, I have come up with a recipe worth sharing.
Make these immediately. No questions asked.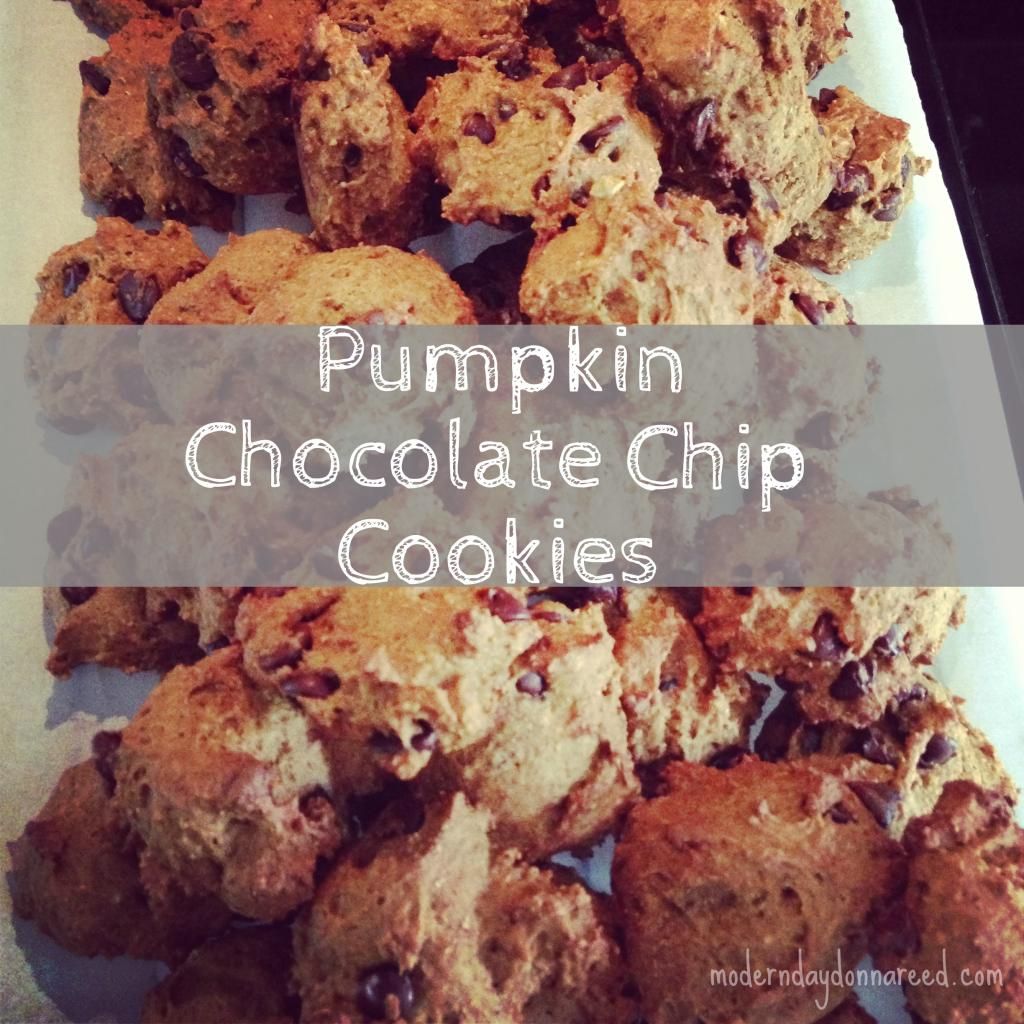 4 1/2 cups flour

(I used whole wheat)

1 cup of granulated sugar

1 cup of brown sugar

2 tsp Cinnamon

1/2 tsp Cloves

2 tsp baking soda

1 tsp salt

1 16oz. can of Pumpkin Puree

(note: NOT Pumpkin Pie Filling)

1 cup of applesauce

(I used unsweetened)

2 eggs

2 TBS milk

(I used skim)

1 tsp Vanilla extract

2 cups of semi-sweet chocolate chips
Directions
1) Preheat oven to 375 degrees. Line and/or grease a cookie sheet with non-stick cooking spray.
2) In a large bowl, mix dry ingredients (flour through salt) until combined. Add wet ingredients (pumpkin puree through vanilla extract) until it is well-incorporated with the dry ingredients. Stir in chocolate chips.
3) Drop by tablespoonful onto greased cookie sheet and bake at 375 degrees for 13-15 minutes, or until edges just begin to brown.
4) Cool and enjoy!
These cookies turned out perfectly cake-y, moist and super delectable. They will be the hit of all your Autumn parties ;)
Since I am always on a mission to "healthify" a recipe wherever possible, I am going to adjust the sugar in the next batch and see how much less I can use without sacrificing flavor. I promise to report back!
I'd love to hear how these turn out for you, or what adjustments you made to make the better - so be sure to leave a comment and share your story!