I hope you found some encouragement from last week's Things Moms Say, where some of my fave bloggers shared the Best Parenting Advice they'd ever received. This week, I put out the question, "What is your best (worst?) Mom Fail?" Here is what you had to say (and tell me these haven't happened to you as well!)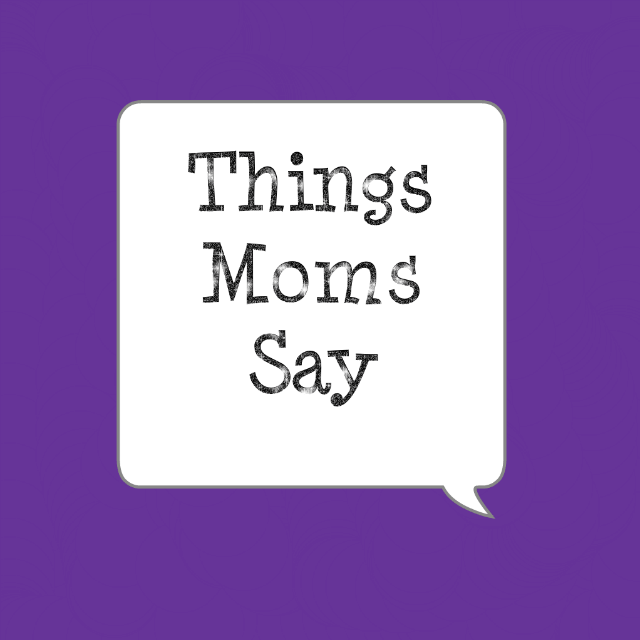 "
My BIGGEST fail is not being as calm, cool and collected as much as I should be!" - Tarin
"I
still feel bad about telling one of my children who wouldn't cooperate and stay with me in a store "ok, bye" only to watch the face turn to shear panic & sobbing uncontrollably thinking I would actually abandon him/her" - Martha
"
Definitely (and shamefully) packing up the car, getting in, turning it on, pulling out of the driveway, and realizing that the baby was still sitting, strapped in the infant seat, on the front step! Yikes!" - Michelle from Mommy Confessions
"
Locking your kids, cell phone, and the keys to the car in the car. (Thankfully they were asleep)
" - Jennifer from Jersey Family Fun
"
Rounding up the children (5) to leave church, get them in the car, drive home. Upon their exit of the car you realize you forgot one. Thank goodness for people who love me and brought him home within 5 minutes of my arrival at home." - Uneeka from PowerMommy Nation
"I
completely forgot to brush my second child's teeth...for the first 2 years of his life. Yep, I said it. Thankfully, he's almost 4 now and none of them are missing from decay. WTH was I thinking???" - Cindy from
"
My biggest fail was forgetting to strap my oldest one in his car seat, and then getting into an accident on the way home. Fortunately, he fell forward only a foot and was fine. To this day, everyone has to be strapped in before the car star
ts moving. My 2nd biggest fail was the time I got my daughter's fingers caught in one of the rear mini van windows. I had no idea she had stuck them in the open window!" - Barb from A Life in Balance
"
Yesterday I was too engrossed in a magazine to pay too much attention to what my 4yo was asking. Only after revealing that there is NO SUCH THING as the tooth fairy did I realize what I had done. OOPS" - Melinda from Look What Mom Found
Until then, I'd love to hear from you:
What is YOUR best/worst Mom Fail?