I combined these weeks, as I knew the Kennett YMCA would be closed for a week due to renovations (yay for new stuff!). The week before the Y was temporarily closed, I had a great week. I made it over to the Y my desired 3 times, and I started up week 2 of couch 2 5k. I realized that I started using the app for my training way too late (as the 5k is now a little over a week away). So I am cheating: I have skipped ahead to week 6, and for the remainder of time before the race, I'll just run my butt off on the track.
Hoping the "run my butt off" ends up being literal...
The Y: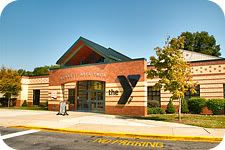 I shared that the Kennett YMCA branch was closed last week for renovations. I asked Jeff Daly, the Kennett YMCA Executive Director, if he could share a bit about the improvements made. Here is the list he sent me:
A brand new air conditioner/dehumidifier in the cycling studio. (you might not be too impressed, however maintaining a cool environment with 26+ people in a small room putting off so much heat and energy while they cycle has been a struggle forever). It is the biggest air conditioner I have ever seen for a room that size.

New light bulbs and wiring for our pool lights. This process delayed the pool for a week – we were only intended to change the lights but realized it was best to change out the wiring of the lights in this process. I learned more than I ever thought I would about light bulbs, wiring and how to change a light bulb while being 50 feet from the ground above a pool.

Refinished the Gymnasium Floor and Aerobics Studio

New Carpet - in several areas, however most notably on the steps leading up to the second floor

The Parking Lot – received a makeover - it looks brand new and it's just awesome!

New "Personal Lockers" – I kind of laugh at the name of them because aren't all lockers personal! These are the smaller lockers located near the elevator that simply hold people's wallets and cell phones.

a thorough cleaning of our entire fitness center, equipment, locker room, pool area, and every other square inch of the YMCA.

Coming in December….over 20 new pieces of equipment for our Fitness Center!
Isn't that awesome! So much to look forward to!
The Soundtrack
(I make no apologies for my random and awesome taste in music)
1. The Places You Have Come to Fear the Most - Dashboard Confessional
2. Interstate Love Song - Stone Temple Pilots
3. Good - Better than Ezra
4. 32 Flavors - Ani DiFranco
5. Minority - Greenday
6. Don't Come Around Here No More - Tom Petty and the Heartbreakers
7. Home - She & Him
8. Slide - Goo Goo Dolls
9. Wonderwall - Oasis
10. The Final Countdown - Europe
Healthy/Healthifed Recipe
Sometimes a good hearty sandwich hits the spot. Sandwiches can really surprise you with fat and calories. So when I came upon this recipe a few years ago from
Cooking Light
, I tried it immediately. It's become a staple in our household, minus the eggplant.
Eggplant and Goat Cheese Sandwiches
(from Cooking Light

magazine

)




Yield:

2 servings (serving size: 1 sandwich)
8 (1/2-inch-thick) eggplant slices

2 teaspoons olive oil, divided

1 large red bell pepper

4 (1-ounce) slices ciabatta bread

2 tablespoons refrigerated pesto

1 cup baby arugula

1/8 teaspoon freshly ground black pepper

1/4 cup (2 ounces) soft goat cheese
2. Arrange eggplant slices in a single layer on a foil-lined baking sheet. Brush both sides of eggplant with 1 teaspoon oil. Cut bell pepper in half lengthwise; discard seeds and membrane. Arrange bell pepper halves, skin sides up, on baking sheet with eggplant; flatten with hand. Broil 4 minutes; turn eggplant over (do not turn bell pepper over). Broil an additional 4 minutes; remove eggplant from pan. Broil bell pepper an additional 7 minutes or until blackened. Place bell pepper in a zip-top plastic bag; seal. Let stand for 15 minutes; peel and discard skin.
3. Broil bread slices for 2 minutes or until lightly browned, turning once. Spread 1 tablespoon pesto on each of 2 bread slices. Layer each bread slice, pesto side up, with 2 eggplant slices, 1 bell pepper half, and 2 eggplant slices. Toss arugula with remaining 1 teaspoon oil and black pepper; divide arugula mixture evenly between sandwiches. Spread 2 tablespoons goat cheese over each of 2 remaining bread slices; place, cheese side down, on sandwiches.
Progress
I missed gym time last week due to the renovations (although all members were invited to use the West Chester of Jennersville locations), but managed to stay on track. Over the course of those 2 weeks, I maintained my 145lbs. Not sure why the stalemate has arisen, but I know plateau's happen, and I need to work to bust through it! This week, I'll be working on getting myself ready for the 5k! I've skipped ahead to week 6 of the program, and will work on just getting through the distance. Once the race is over, I'll go back to earlier in the program to work on stamina and endurance for the next race (which will be...?)
*****
How are you doing in your Journey to Healthified? What did your week look like? I'd love to hear about it - leave a comment to share your story!