Week 2 Check-in! Have you ever started a health routine only to be thwarted at some point? Last week was my first Thwart. And it stinks it came so early in the Journey. We lost my husband's grandfather last week, so between being with family, preparing the house for out of town guests, and the funeral, it was hard to stay in the Healthified mindset. Or get to the gym. I did make it once or twice (one of the benefits of living so close to a great workout facility!), and did do a good job of staying on course with eating well. And, funnily enough, I didn't gain weight (I lost it!).
Cardio Room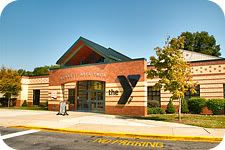 Due to the Thwart, I did not get to attempt another run to the Y. Lucky for me, the Kennett Area YMCA has a great Cardio Room. It is distinctly separate from the Stretching Room and the Weight Room, but connected so a member can walk from one room to another. The Cardio Room offers several different machines: treadmills, stairclimbers and elliptical machines (there may be more, but these are the machines I am most familiar with and most comfortable using). They are state-of-the art, each with options for different resistance and duration programs. My favorite part? They are PLUGGED IN.
And no, I do not mean into the wall so they work.
I realized how plugged in these machines were one night when I arrived for a work out. I had my iPod with me, along with my new headphones. I got myself stretched out, put my earphones over my ears, and clicked my iPod on.
I tried again, and it did not take long to realize that it was dead. I started kicking myself for forgetting to charge it before heading over. I am one of those people who cannot easily "lose myself" in a run. I need encouragement and motivation, usually in the form of some kind of media. There are several TV's hanging in the Cardio Room for your viewing pleasure, so I knew I could use them. But it is really easy to fall off a machine during a work out because you are trying to watch one of the TV's at an off angle and you lose balance. In front of a lot of gym-goers.
Not that I have any experience with this sort of thing.
I decide to push myself and commit to the work out despite the lack of iPod and possibility of workout TV vertigo embarrassing me in front of the whole Room. I choose a hefty-looking elliptical, get on, and begin to peddle. I quickly observe 2 awesomesauce things:
1) There is a TV on my machine. Like attached. With channels. For me to watch. Like the Food Network. This made my night.
2) There is an iPod charger attached to the machine. Like attached. So that I could hook it up to my iPod to simultaneously charge it and listen to my music.
This double made my night.
So, despite not having the opportunity to get over to the Y as much as I would have liked last week, I maximized the few times I was there. The Cardio Room was a great way to get in whatever kind of work out I needed. And it gave my plenty of ways to "lose myself" in a workout, despite my forgetfulness! There is a machine there for everyone, of every capability. I've already been over there once this week, and cannot wait for a few more workouts!
I was encouraged to try a Yoga class sometime. Eeeeek! I've always wanted to try Yoga, but since I've never done it, I've totally been intimidated. But this is all about the experience, so I believe I will try it out sometime soon. Keep a look out for a post on how it goes!
(I make no apologies for my random and awesome taste in music)
1. 32 Flavors - Ani DiFranco
2. Zak and Sara - Ben Folds
3. Again I Go Unnoticed - Dashboard Confessional
4. Rock Me Amadeus - Falco
5. Shimmer - Fuel
6. Follow You Down - Gin Blossoms
7. Booty Call - G.Love
8. MMMbop - Hanson (HECK YES!!)
9. My Life Would Suck Without You - Kelly Clarkson
10. Supermassive Black Hole - Muse
Healthy/Healthifed Recipe
This recipe comes from one of my favorite local farms, Northstar Orchard. It was shared with the the West Chester Growers Market (who I also blog for), and it sounded so good (and healthy!) I was excited to share it with you! This would make an excellent breakfast or snack. Yum!
Peach Smoothie Recip
e
A tasty, cold beverage for hot summer days!
1 peach, peeled
1/2 cup plain yogurt
1/2 cup orange juice
a few ice cubes
1 t. sugar (or to taste)
Combine all ingredients in a blender.
Serves 2 (or maybe 1, it can be hard to share!)
Last week, my first week checking in, I started out at 148 lbs. Despite the lack of gym time and chaos with the funeral, I am down to 146lbs. We'll see if I can keep it off.
How are you doing in your Journey to Healthified? What did your week look like? I'd love to hear about it - leave a comment to share your story!