Ok. So last week, I asked for your opinion regarding what I should do with my hair. It was long and blah and needed some life breathed into it. I loved everyone's thoughts (especially those who sent pictures!), and took them into careful account when I called and made an appointment.
I was so so so excited to get out of the house and pampered a bit at one of my favorite local salons (which, for the purposes of this post, shall remain nameless). The stylist who I'd seen in the past was not available, and since the salon is chic and reputable, I figured I could see the next available stylist that evening.
So I did.
And...I'm not happy with the results.
::EEEEEEEeeeeeeeeee:::
Ok, let me back up.
Let's review what my hair looked like Before Haircut:
Now, let's take a look at what my 'do looks like After Haircut:
::drumroll please::
The Mid-Length Cut with Side Bangs
I know. It's not
awful
or anything. But...well...let's proceed.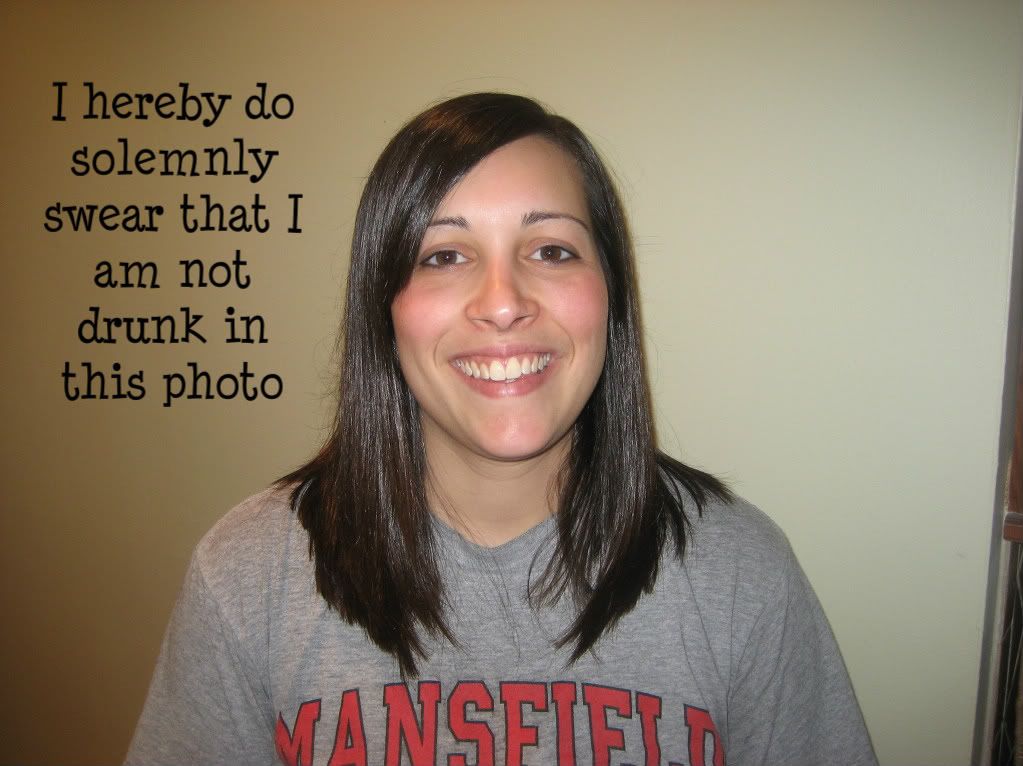 It's not a
bad
haircut. It's just...not what I wanted.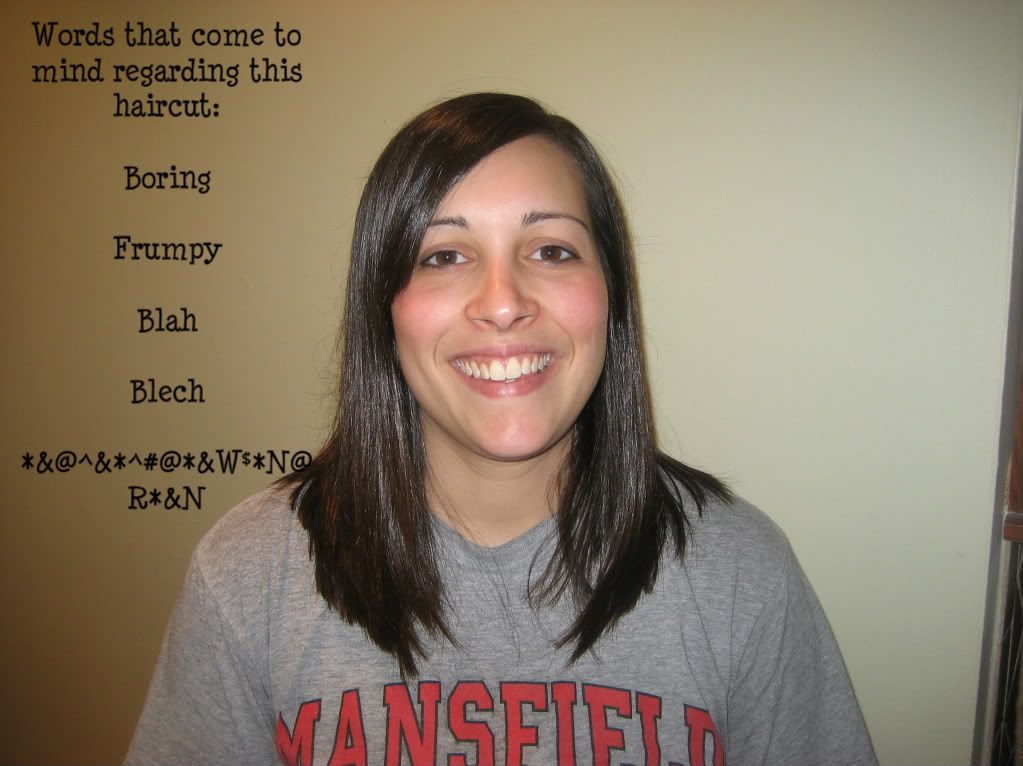 I broke the first
Cardinal Rule of Haircuts
:
I did not bring a picture.
So, to that degree, I blame myself. Especially since so many of you sent me good visuals of good haircuts.
But, I used
very
descriptive words. Like, "
I'd like to have my hair cut to
here
[enter gesture indicating just above my shoulders]. Layers do not go well in my hair because it's so straight, so I'd like to try to avoid them,
unless you need to put them in to make my hair lay correctly
.
"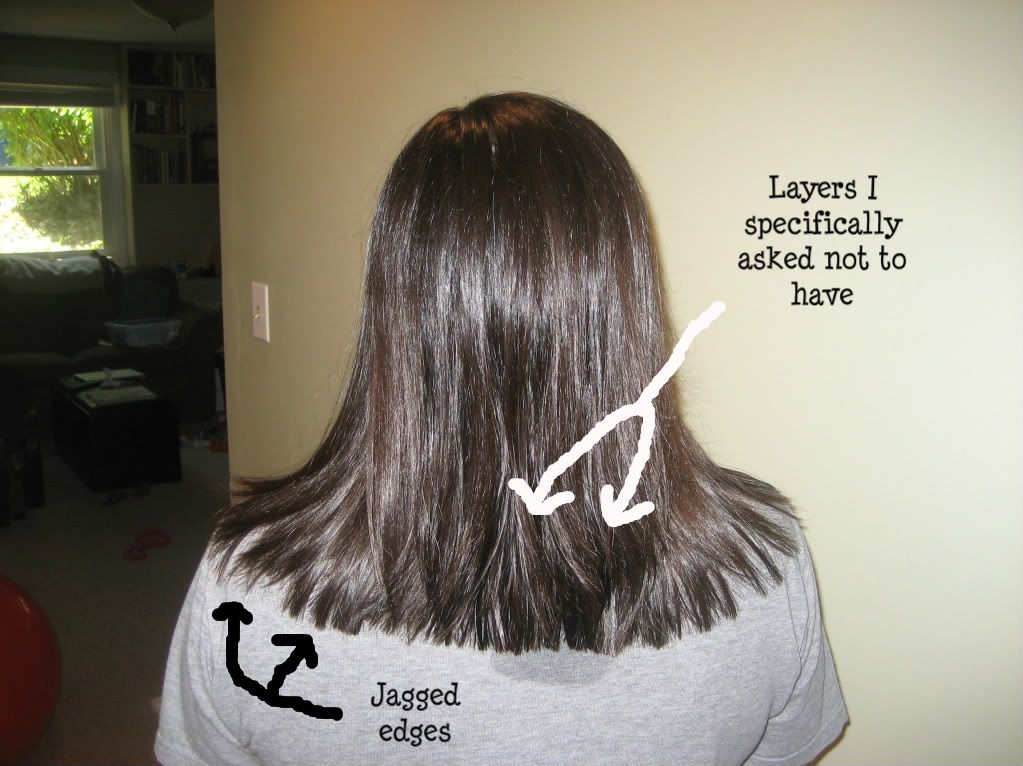 I shared that I'd had many haircuts in the past, and I wasn't afraid to go edgy.
Edgy
, mind you. Not
jagged
. Or
uneven
.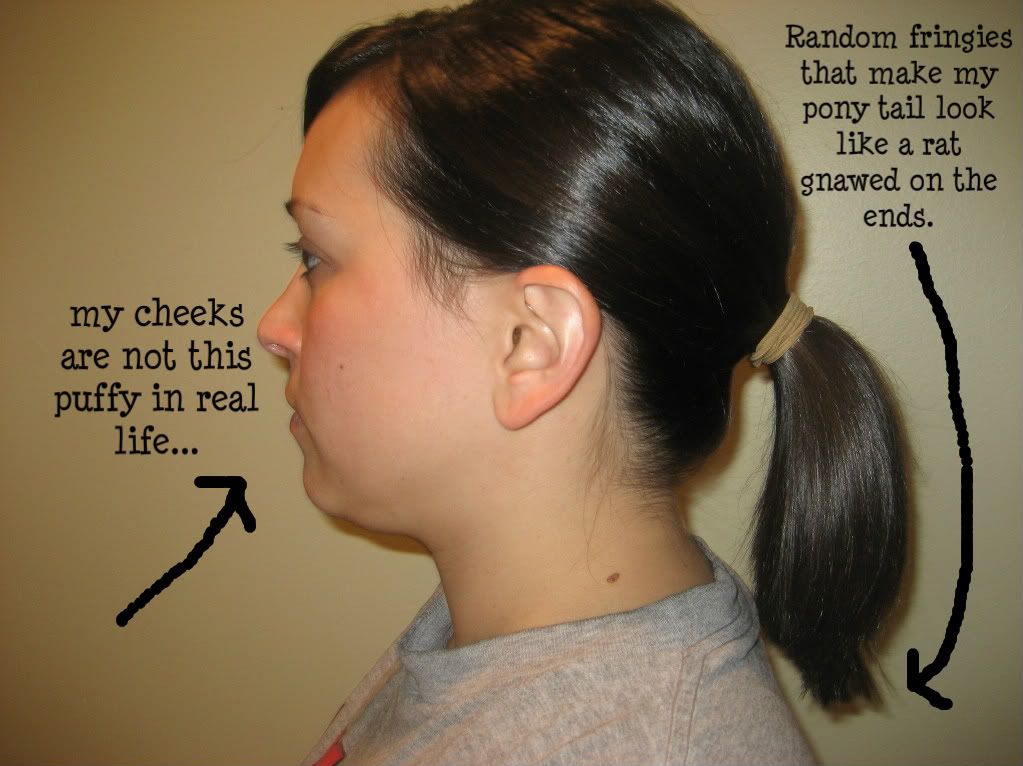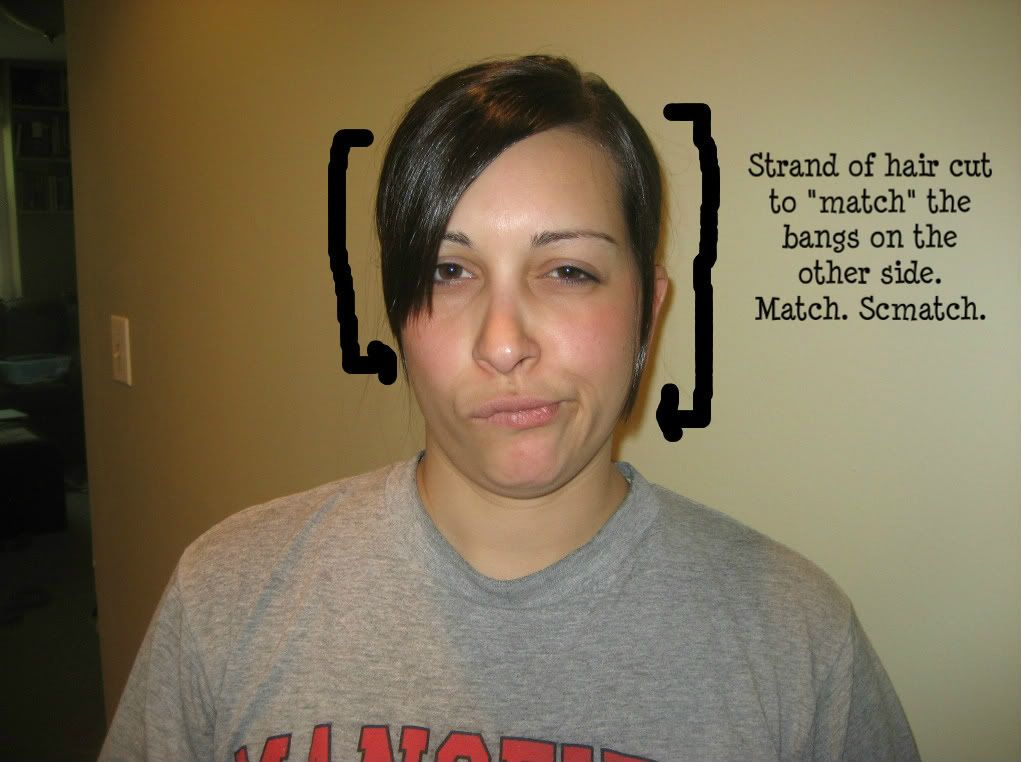 But then she kind of did her thing.
And did not talk to me once.
Not once! Hair stylists are, by far, the most social creatures on the planet. So it completely intimidated me that she was quiet. Had I said something wrong? Was my hair offensive? Was I keeping her from something more important since my appointment was so late?
It was difficult to enjoy the haircut when I was guilt-ridden and embarrassed for something I'm not even sure I did. And as I watched her clip away, adding layers and "contemporary" frayed edges, all in the name of giving motion to my hair, a slow panic began to build in my stomach. I knew that I was not getting the haircut I wanted. And I couldn't stop it.
I didn't know how to change our misguided trajectory. You see, I'm a total wimp when it comes to confrontation or being aggressive or generally doing anything that could make someone mad at me.
(I know. I may
look
like a formidable powerhouse of nature. But deep down, I'm really a big baby).
So, the haircut came to an end. The stylist blow-dryed it out. I could see the layers falling improperly, I could see the jagged edges (which, to be fair, happens to my hair a
lot
, since it's so straight. It takes a trained eye to cut such straight hair), and a random strand of hair that she pointed out, stating it was meant to match the bangs and balance both sides. But this strand of hair was a good 2 inches longer.
I looked at myself in the mirror, and saw something not so different than when I came in: a frumpy, lack luster Mom cut. Maybe the real problem is that I wanted something different. Head-turning. Modern. Dangerous. Something that expresses who I am inside. Or, at least, who I want to be.
And what I got was a ho-hum haircut.
Now, here I am, with a haircut that I don't love. Which may or may not be my fault. There are some edges that need snipping, some strands that need evening. And, yes, I can live with this cut for a few weeks until it's time to go back. Because I may or may not be a total dork and too afraid to go back.
But, is that the best way to handle the situation?
Would you go back and ask to get it fixed?

[If so, would you call for me because doing that would make me throw up]

Would you suck it up, live with it because it's not so bad, and try again in a few weeks?

Go some place else and have them fix it or get a completely different cut all together?

Should I have gotten heavier bangs straight across

[here I am thinking

Zooey Deschanel even though she has wavier hair than me

]?

Should I have gone shorter? Longer? Edgier?

What should I do with my life?

[hey, it was worth a try]
[
Note
: I do not hold the salon responsible for my experience. I seriously totally absolutely love it there because it's awesome and edgy and modern and everything I want to be. Everyone has bad days. So do salons and stylists. And I will, without a doubt, go back again in the future.]